Governors Ball 2014 Lineup – OutKast, Vampire Weekend and The Strokes
The masterminds behind the Governor's Ball in NYC have put together a most impressive lineup for the 2014 edition. Check it out below,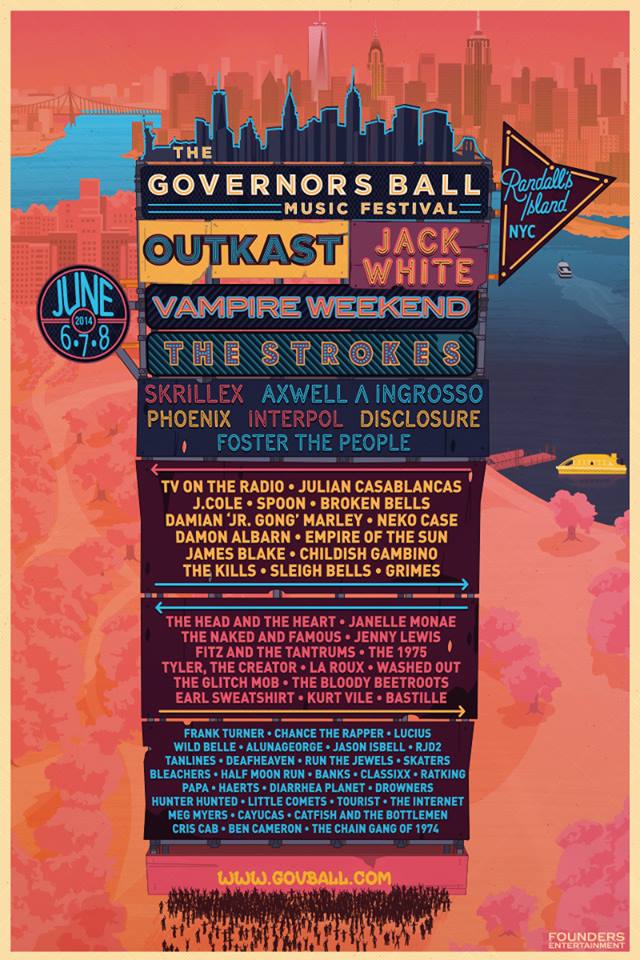 Latest news down the pipes is the Strokes have also been added to the lineup as a last minute addition. Even without them, we think this is the best Governor's Ball lineup we've ever seen. Fingers already crossed for better weather than 2013.
Here's a text version,
Governors Ball — 2014 Lineup
OutKast
Jack White
Vampire Weekend
Phoenix
Skrillex
Interpol
Axwell & Ingrosso
Foster the People
TV on the Radio
Julian Casablancas
Disclosure
J. Cole
Spoon
Damian 'Jr. Gong' Marley
Broken Bells
Damon Albarn
James Blake
Neko Case
Empire of the Sun
The Kills
Sleigh Bells
Childish Gambino
The Head & the Heart
Grimes
The Naked & Famous
The 1975
Janelle Monae
Fitz & the Tantrums
Jenny Lewis
Tyler, the Creator
La Roux
Washed Out
The Glitch Mob
The Bloody Beetroots
Earl Sweatshirt
Kurt Vile
Bastille
Frank Turner
Chance the Rapper
Lucius
WIld Belle
AlunaGeorge
Jason Isbell
Tanlines
Bleachers
RJD2
Deafheaven
Run the Jewels
SKATERS
Half Moon Run
Banks
Classixx
Ratking
Papa
Drowners
Diarrhea Planet
Little Comets
Hunter Hunted
Haerts
Tourist
The Internet
Meg Myers
Cayucas
Catfish and the Bottlemen
Cris Cab
Ben Cameron
The Chain Gang of 1974