Outside Lands 2014 Listening Guide Part 4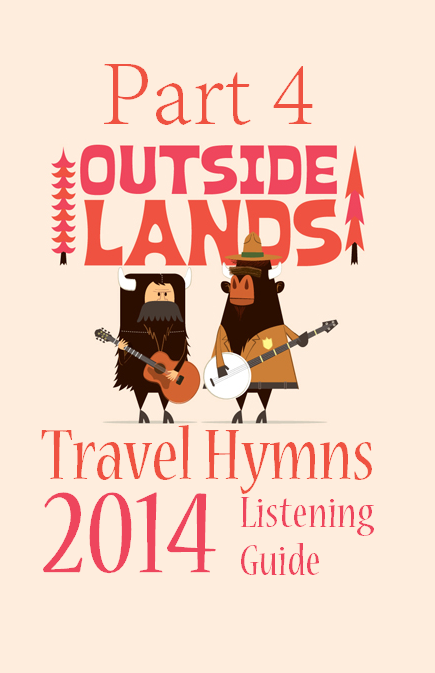 Tom Petty & The Heartbreakers
Heartland Rock, Blues
Call us old schooled, but this is a great billing for Outside Lands. At this point in his career, Tom Petty really doesn't need an introduction. His live band is composed of seasoned performers, each who contribute to the dynamic and unmistakable heartland sound.

Trails and Ways
Indie, Synth Pop, New Wave
We aren't well versed in Trails and Ways but we've loved what we've heard so far. Quick comparisons can be made to artists like Superhumanoids, Ra Ra Riot and festival mates Gardens & Villa. We're not sure if they bill their music as tunes to hike to ironically given the band's name, but we're immediately transplanted to a piece of beautiful coastline with these sounds.

Tumbleweed Wanderers
Rock, Indie Folk
Blending different elements of soul, funk and rock, nearby Oakland's Tumbleweed Wanderers deliver a dynamic range of sound — pulling listeners through dark twangly rock to lighter more melodic accents.

Tycho
Ambient, Downtempo
Scott Hansen, known professionally as Tycho, is an ambient artist affiliated with Cartoon Network's Toonami. His live show typically includes additional members to provide a fuller sound.

Typhoon
Indie Rock
Salem, OR's Typhoon have a whopping 11 members and an almost equally expansive body of work, including four albums. They made their television debut on David Letterman in 2011 and have since enjoyed some more commercial success.

Valerie June
Folk, Blues, Soul, Gospel
A multi-faceted musician, Memphis, TN's Valerie June found her niche among genres like folk and blues. June relocated to Memphis early in life and recorded music at the age of 19.

Vance Joy
Alt Rock
Australian born Vance Joy received his arts/law degree from Monash University. His hit single 'Riptide' was voted #1 on the 2013 Triple J Hottest 100, netting his major radio play.

Warpaint
Indie Rock, Psychadelic
LA's Warpaint formed on Valentine's Day in 2004. Childhood friends, Theresa Wayman and Emily Kokal joined forces with sisters Shannyn Sossamon and Jenny Lee Lindberg. The band has since incorporated new members, but retained their prowess for dream pop.

Watsky
Alt Hip Hop
27-year-old San Fran native George Virden Watsky is a rapper, poet and producer. Watsky is a profound slam poet, having appeared on Russell Simmons Presents Def Poetry. Earlier on he was recognized as the Brave New Voices International Poetry Slam Champion.

Woods
Folk Rock, Indie, Neo-Psychadelic
An American folk band out of Brooklyn that formed in 2005, Pitchfork labeled them in recent years as "Best New Music" and described them as "a distinctive blend of spooky campfire folk, lo-fi rock, homemade tape collages, and other noisy interludes, all anchored by deceptively sturdy melodies."