Outside Lands 2014 Listening Guide Part 1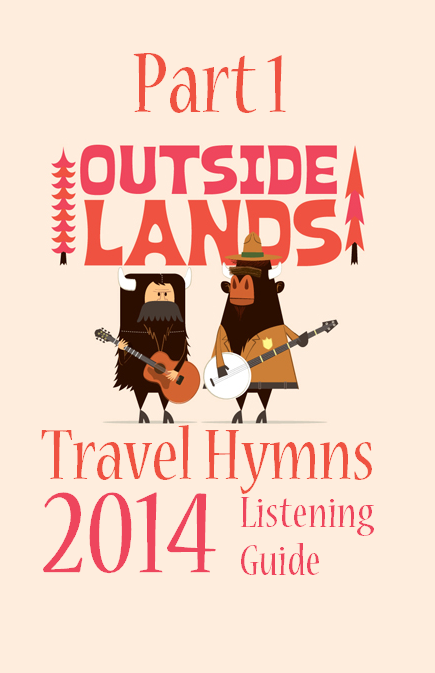 Aer
Pop, Rap
Boston duo David and Carter formed what was originally known as Fresh Aer Movement after playing together in a 4-piece band, combining elements of rap and pop in the style of Sammy Adams.

Arctic Monkeys
Rock
Years after their explosion to fame and minor lineup changes, Arctic Monkeys have become a mainstay of the rock world like predecessors Queens Of The Stone Age. They continue to enjoy major billing on US music festivals on the heels of their last sensational release, AM.

Atmosphere
Hip Hop
Somewhat of a cult favorite among hip-hop fans, the Minneapolis collective features rapper Sean Daley as its nucleus. More thought-provoking lyrics in the vain of Murs and Living Legends.

Bear Hands
Experimental, Indie Rock
Like many other artists, Wesleyan graduate Dylan Rau began Bear Hands in the wake of failed romance. Unlike others however, Bear Hands packs an experimental pop sound all their own.

Ben Howard
Folk, Indie
Growing up in South Devon, England, singer/songwriter Ben Howard was raised off his mother's collection of folk records including Joni Mitchell. He penchant for surfing in his off time makes him a UK equivalent to Jack Johnson.

Big Freedia
Bounce, Hip Hop, Electronic
New Orleans' own Big Freedia, crowned 'the Queen Diva!', is well known for big personality and ass quaking live shows. We had the opportunity to see him teach a twerking class aboard a riverboat during BUKU and it was life changing.

Bleachers
Rock, Indie Pop
Based out of the melting pot of New York City, casual music fans are already well acquainted with guitarist Jack Antonoff's work as a member of the band Fun. Bleachers was formed as a solo project during tours supporting Fun's Grammy-nominated album in 2012.

Boys Noize
Electro House, Trance
Berlin-based producer Alexander Ridha is one of the biggest names in all of EDM, having served as a member of Dog Blood alongside Skrillex throughout most recent festival appearances. His solo work still makes for one of the best electronic performances on any billing.

Capital Cities
Indie, Synth Pop
LA's indie electro duo consists of Ryan Merchant and Sebu Simonian. Although their base is growing, they were recently hailed as some of the top performers at 2014's Coachella amid a stacked lineup. Definitely worth a look.

Christopher Owens
Indie Rock
San Francisco's Christopher Owens is the former frontman of band Girls, who called it quits as recently as 2012. Owens is still looking to find his footing as a solo performer but his work still displays glimpses of the talent that made his former band so special.

Chromeo
Funktronica, Synth Pop
The Funk Lords out of Montreal, Dave One and Pee Thug are back with fresh new material. Coming off a dynamic Coachella performance, this performance is not to be missed.

Chvrches
Electronic, Synth Pop
New faces to the festival circuit, Glasgow's electro-pop outfit Chvrches features the incredible vocals of Lauren Mayberry. Although their rookie status nets them smaller billing, their live performance shows why the band should quickly rise to the top.

Courtney Barnett
Rock
Melbourne-based Courtney Barnett is a talented and conversational singer/songwriter, dropping disarming deadpan verses backed by charismatic garage-rock. Her 2012 EP I've Got a Friend Called Emily Ferris helped her catch national critical acclaim.

Cut Copy
Synth Pop, Dance-Punk, New Wave
Australian's Cut Copy is a heavy hitter among the current stream of New Wave bands, taking accolades from bands like LCD Soundsystem and imprinting their own pop sensibilities.

Death Cab For Cutie
Indie Pop
Veterans of the scene, Death Cab has focused less on relentless album releases resulting in mediocre material and instead embracing their past — frontman Ben Gibbard having recently toured as The Postal Service. Their classic catalog still warrants them festival favorite status.

Deer Tick
Rock, Americana
Frontman John McCauley out of Providence, Rhode Island is entirely self-trained on drums, guitar, and piano. His band draws comparisons to other alt-country bands like Bright Eyes and Modest Mouse.

Disclosure
House, Synth Pop
Rocketing to the top of everyone's top act, the brothers behind Disclosure have enjoyed major success in America since the release of album Settle, thanks in part to their massive single 'Latch'. Disclosure recently surprised Coachella audiences with live performances by Mary J Blige and Aluna Francis. We expect more surprises are in store for their bay area show.

Duck Sauce
House
Masters of production, Duck Sauce is the super group duo of Armand Van Helden and A-Trak. The group can now finally add a full album release to its inventory with 2014's aptly titled Quack.

Dum Dum Girls
Indie Pop, Shoegaze
Still considered a sensation among the indie circuit, Dum Dum Girls have come a long way since their first release. Heavily influenced by the sounds of the 60s, Dum Dum Girls brings more fans into shoegaze thanks to their infectious pop tendencies.

Finish Ticket
Indie Pop
The bay area's own Finish Ticket have made their name off toeing the line between indie rock and radio-friendly pop. The band was formed in 2008 while the members attended Alameda High School.