Just got tickets for Coachella and need a place to stay? Why not camp?
I know how ya'll are excellent planners with school in the throws of mid-terms, busy weekends filled with catching up on all the crap you put off all week and every night watching Tivo'ed episodes of Scandal, American Idol, The Walking Dead, and Housewives of Beverly Hills. And don't forget the "Serial" podcasts you've been meaning to catch up on. Yes, I am with you—I gotta know the fallout from the fight at Kyle's gay mixer and how Brandi's influence over Kim will affect the rest of the girls. There just aren't enough minutes in the day!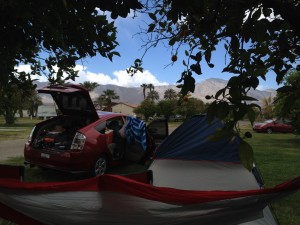 That's why I am here to tell you about all the places that may still have camp sites mere weeks before Coachella starts because you have procrastinated so long you are in danger of losing your best friend and getting into an epic fight with your boyfriend. Fear not. I am here for you.
Here is the list of the top 5 campsites that (should) have a space for you when you finally turn off the telly and realize you were supposed to make the camping arrangements in February. They are within 30 miles of the festival grounds. If you actually 
are
 making plans in February (like a good friend) you will probably have luck at all of these. They go in "Best of" order
The Best Campsites and Camping for Coachella 2015:
Oasis Palms RV Park
90123 81st Avenue
Thermal, CA 92274
Best Part: The owners will drive you out and back for $20 each way. No parking, drink driving, and hassle as you carry your dusty, tired ass in and out of the festival grounds. It does take almost 45 minutes to travel 23 minutes though. They have fresh and yummy cookies and coffee and tea all day.
Consider this: I stayed here with CC in 2014. It was one of those procrastination years because CC was in charge of lodging (and yes, she still is my friend). It was actually pretty cool as it turned out. There was lots of room to pop a tent, put up the hammocks, and carve out a spot for after-hours crafting. It's pretty quiet at night, and the proprietor was great at eradicating the huge ants that infect the entire region. The pool is fab, they even have a game room with a pool table, board games and air conditioning for those hot afternoons if you find yourself staying a day before or after the festival.
---
74485 National Park Dr.
29 Palms, CA 92277
Best Part:
 Camp sites fit up to 6 people, 3 tents & two cars (a vehicle towing a trailer, popup, tent trailer, fifth wheel or a motorhome pulling a vehicle is considered two vehicles) so you can pack 'em in and save some money. Group sites accommodate 10 to 60 people. Each campsite has a picnic table and fire grate, so bring your 
portable (propane-fired) campfire
.
Consider this: There are no hookups for recreational vehicles. Black Rock and Cottonwood have fresh-water fill-up and dump stations. Motorhomes and habitable trailers are prohibited at Cottonwood and Sheep Pass group sites. Hidden Valley and White Tank campgrounds, and at Indian Cove group sites, motorhomes and trailers, including their tow vehicle, cannot exceed a combined vehicle length of 25 feet.
---
Happy Traveler RV
 (FYI: 
no tents or tent trailers by the way)
211 W.Mesquite
Palm Springs, CA 92264
Best Part: Amenities include pool, spa, restrooms, showers, laundry facilities and WIFI. So if you aren't actually a camper you can bring your creature comforts with you.
Consider this: Rates include space rental, electric, water, sewer, cable TV, WiFi, and taxes. Park is located in downtown Palm Springs.
100-225 State Park Road
North Shore, CA 92254
Best Part: Five campgrounds with 1,600 campsites which are good for tent camping and RVs. Plenty of room!
Consider this: You probably want the more developed sites by the Varner Harbor, and at Mecca Beach Campgrounds. Three beach campgrounds (Corvina, Salt Creek, and Bombay Beach) are a more—ummm—primitive camping experience, but you get to be along the lake's shoreline.
70-875 Dillon Rd
Desert Hot Springs, CA 92241
Best Part: Underground hot mineral water springs, and motel rooms for those who prefer not to camp
Consider this: Travel trailers, tents, motor-homes, campers & fifth wheels are welcome