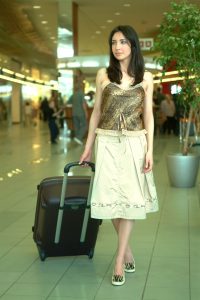 Talk to any traveler, and they'll likely tell you that flying is the worst part of their trip. And when long-haul flights can last up to 12 hours, it's easy to see why.
But it's not just those cramped seats that make flying uncomfortable. Sometimes it's the clothes you're wearing too.
However, by choosing the right airport attire, you can get through security in a breeze and be more comfortable during your flight.
Do you want to know more? Keep reading to discover how you can create the ultimate airport outfit.
Slip-On Shoes
Alright, let's start with the feet and work our way up.
When you're going through security, you'll most likely have to take your shoes off. To make this easier, it's recommended that you wear slip-on shoes. However, you'll also want to avoid wearing flip-flops.
Why? Well, when you take them off, you'll be stuck walking on the dirty airport floor in your bare feet. You'll also have nothing covering your toes, so they may get cold on the plane.
A pair of slip-on sneakers or boots are your best bet. Plus, wearing the largest pair of shoes you plan on bringing frees up more room in your suitcase! This is great for any trip but can be extra important for international travel and long trips.
Sweatpants
If you have to choose between style and comfort for your airport attire, always go with comfort. While you may look good in those skinny jeans, you'll end up regretting them a couple of hours into your flight.
Instead, opt for sweatpants or yoga pants. Since they're loose-fitting, you'll be able to move around more to get comfortable without feeling restricted by what you're wearing.
If you tend to get hot easily, you may want to wear a comfortable pair of shorts under your sweats. This will allow you to take your sweatpants off without having to completely change in the cramped bathroom.
Leggings
If you're not ready to completely sacrifice style, consider opting for leggings. They're still flexible enough for you to remain comfortable, and you'll look great.
Plus, leggings come in different thicknesses and lengths. If you tend to get hot, consider a pair of thin, capri leggings. But if you're always cold (or you're traveling during the winter), you may want to go with something thicker and full-length.
T-Shirt
You can't go wrong with a t-shirt when deciding what to wear to the airport. Again, make sure you go with something loose-fitting here. You don't want to feel constricted because your shirt is too tight.
You should also avoid super low-cut shirts as you'll end up worrying about potential wardrobe malfunctions instead of being able to fall asleep. Anything that pokes at your skin, like sequins, should also be avoided. You can shop this site for some t-shirts that are perfect for the airport.
Long Sleeve Tee
Everyone on an airplane gets their own little overhead air conditioning vent. In theory, this is great because you can simply close yours if you get cold. But since everyone is so close together, you'll end up feeling the chill from your neighbor's vent too.
So, if you tend to get cold, you may want to opt for a long sleeve tee instead of a t-shirt. Of course, the same rules apply here—go for something loose-fitting and avoid things like sequins and extra deep V-necks.
Comfortable Bra
There are so many different types of bras, and what's comfortable will depend on your personal preferences.
Some woman finds bras with no underwire to be most comfortable. However, you may also feel uncomfortable without that extra support.
Don't be afraid to try on a few different styles of bras to find which is the most comfortable for you. You definitely don't want to end up spending your entire flight feeling like the underwire is poking at you.
Sweater
Dressing for a flight is all about layering. Whether you decide to wear a t-shirt or a long sleeve tee, make sure you bring a sweater in case you get cold. Again, this should fit on the looser-side and should be thick enough to keep you warm.
Hair Tie
Do you have long hair that tends to get in the way? If you get hot or are sick of your hair getting in your face, you may want to put it up. So, be prepared with a hair tie and bobby pins!
Leave the Accessories at Home
As we mentioned earlier, your airport outfit should focus on comfort over style. So, be sure to leave those accessories at home or in your suitcase.
Bracelets, necklaces, and dangly earrings can all feel like they're getting in the way. If you normally sleep in stud earrings, these can probably stay on. However, have a plastic bag ready, so you can take them off and tuck them into your carry-on if needed.
Avoid Metal
Not only can metal be uncomfortable, but it'll also trigger the metal detector when you go through airport security. Jewelry, like rings and stud earrings, will usually be fine, but belts will need to be taken off.
To make things easier, just avoid wearing anything with metal on it. You'll get through security much easier, and you'll likely be more comfortable during your flight.
Your Guide to Airport Attire
Picking your airport attire is an important part of traveling. Just follow our guide to make sure you pick an outfit that's both comfortable and convenient for getting through airport security.
Do you want more helpful tips and tricks to make flying as easy as possible? Then check out this guide to surviving a long-haul flight.