2014 Coachella lineup tonight? ***Updated 1/8/2014 — Official list below!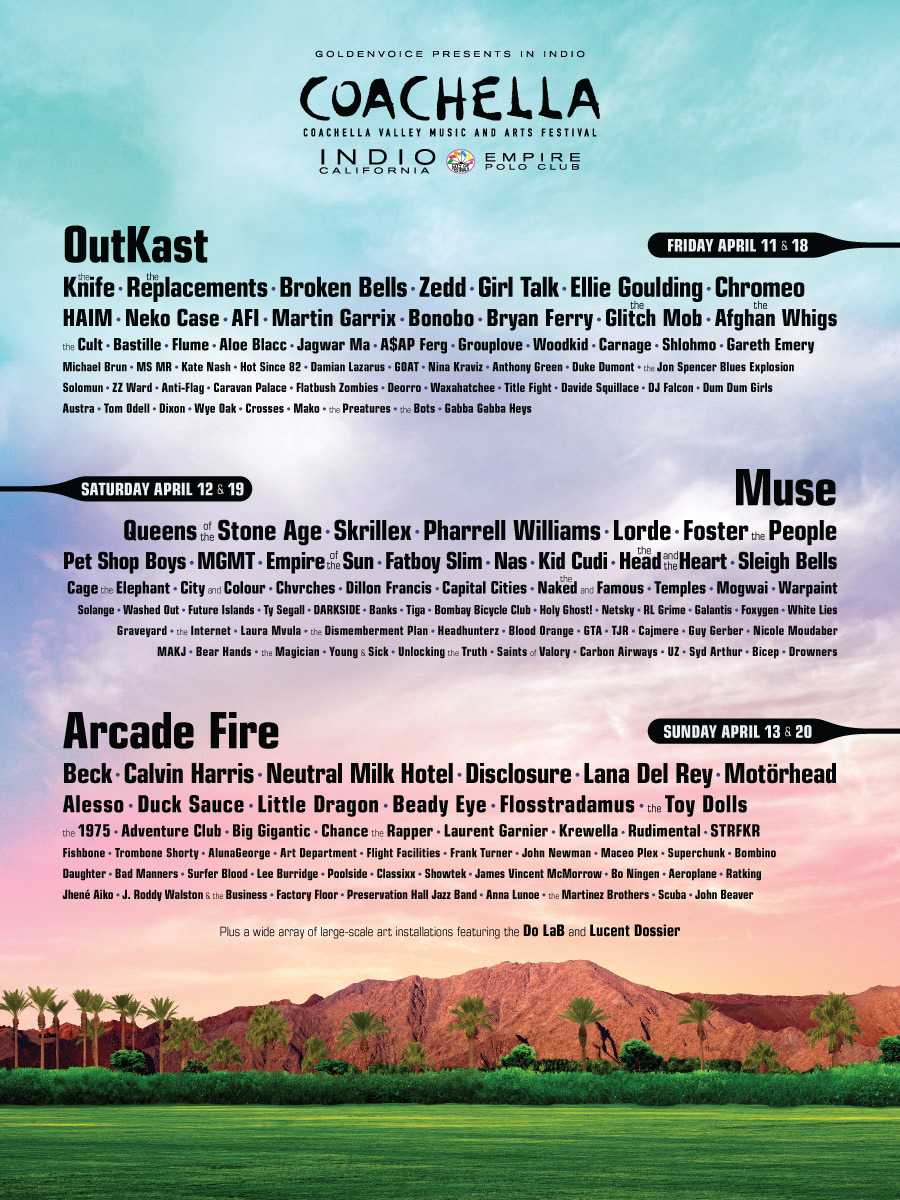 We're twiddling our thumbs on what could very well be Coachella eve — the potential release of the official lineup has related blogs and forums all atwitter.
Hey, speaking of Twitter (Sorry, that was downright shameful), the official Coachella account has been seriously stirring the pot as late. Here's a full list of artists they've teased already, suggesting the festival fervor is totally warranted.
The Magician – When The Night Is Over
The Internet – Dontcha
The Glitch Mob – Can't Kill Us
Bombino – Azamane Tiliade
Factory Floor – A Wooden Box
Bonobo – Cirrius
Future Islands – Balance
Motörhead – Ace Of Spades
If you're keeping score at home, we're currently 0/8 here at Travel Hymns based on our latest speculation of the Coachella lineup, but we still have a horse in this race or some equivalent turn of phrase.
Years past, festival organizers have released around six artists names before unveiling the full lineup. With the last big reveal of Bonobo (can't wait for that one), Future Islands and Motörhead (what?), many familiar with the festival's pattern of smoke signals are led to believe there's only one place left to go.
This would be the earliest Coachella has ever released the lineup should it leak today. We still believe the most likely date we'll see a full reveal is January 20th — just don't stone us for reporting it.
Despite the odds, it hasn't prevented anxious fans from developing their own theories. Our favorite fan conspiracy theory belongs to the aptly named kittypoop on Reddit,
Has anyone noticed the header of coachella.com has been a been a nightscape for the past 3 days? Today it's a morning scene. Also, the first teaser song was "when the night is over". Today is the day
It could be a matter of hours before those burning questions are answered. Is OutKast truly reuniting as a headliner? Could David Bowie make a cameo during a likely Arcade Fire set? Will people still whisper about Daft Punk even following the lineup release?
Here's to a great 2014 lineup, friends.