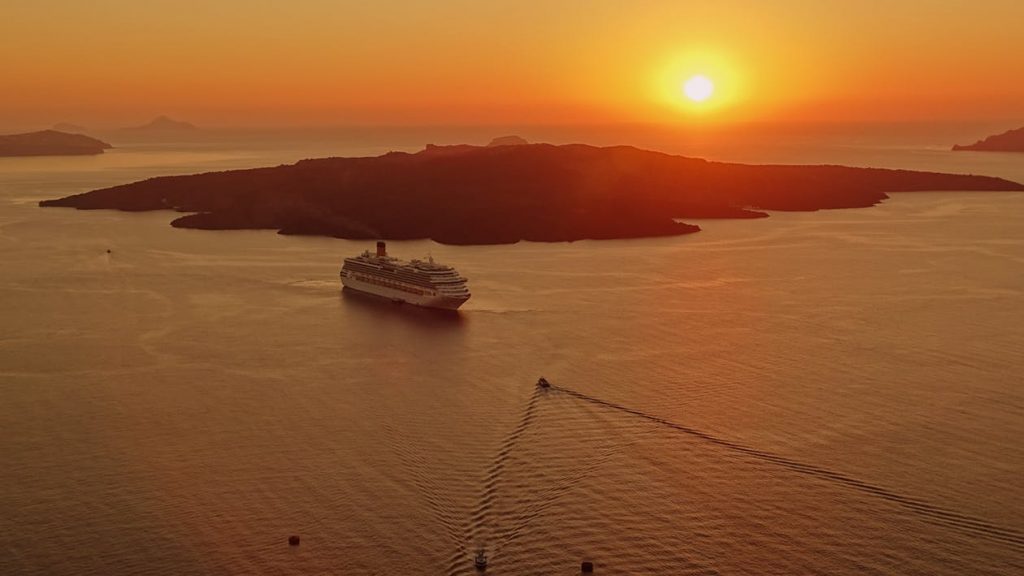 Cruises are widely associated as the types of holidays you take when you're old and retired. They get a bad reputation for being overrun with OAPs (not that there's anything wrong with that) and the choice of holiday you'd take if all you want to do is sit on a sun lounger all day staring at the sea. But that's just not the case. A cruise is just as exhilarating as jetting off on a areoplane, if not better. Who wants to experience jet lag and cramped seats? Not us. And with cruises, you don't have to endure any of that.
See More of the World on a Cruise
When it comes to going on a cruise, you don't usually just have one set destination. Most cruises mean you can stop-off at multiple incredible locations and really get a grip on different areas of the world. Better still, you can take unique routes to get through, using the oceans and rivers to cut through cities and see more from the comfort of the deck.
If inter-railing or hopping on and off planes really isn't for you, a cruise is the best way to get a fuller experience. Use promo codes for Fred Olsen and you can save on travel across the globe. Take in the stunning expanse of nature in Scandinavia or even spot the Northern Lights. You can also book to go to Italy, the Caribbean and more. Squeeze in everything from European cities to paradise-like beaches in one tied-with-a-bow cruise.
Everything Catered for with Inclusive Cruises
Unlike a normal holiday where the expenditure doesn't seem to stop even once you've booked flights and a hotel, once you've paid for a cruise you're pretty much set. No need to pay for food and drink, excursions or other activities. It's already covered, along with your room and luggage.
A normal holiday might see you paying more for transport and other holiday extras. With a cruise you can drive to your port and you may as well leave your wallet at home. Of course for stop offs it's a good idea to have some spending money, but in terms of the cruise boat, everything is included in the one-off payment.
Book a Cruise and Never Be Bored
Between locations you can make use of an incredible range of facilities and activities on board. From swimming and other fitness activities to live performances, crafting and much more. Enjoy entertainment every evening and also benefit from other facilities like libraries, casinos and spas.
With so much variety, it's also the perfect holiday to take with your family. If you have kids of all ages, you won't be short of things to do regardless of their personal preferences. Whilst your little ones get stuck into arts and crafts, your teenagers can lounge by the pool or get beauty treatments. Beyond the incredible days off the boat where you can see the sights, there's so much to do to fill the hours of the day. Or, if you'd prefer, you can just soak up the sun and do absolutely nothing. It's completely your call.
Get Amazing Cruise Deals
With plenty of places to tick off on your travels, there are also a number of fantastic holiday deals to wet your appetite. Find last minute savings, free upgrades and offers with solo travellers in mind. As well as Fred Olsen, you can get Promo Codes For other cruise companies like DFDS Seaways, Brittany Ferries and much more. Book now, save and reap the benefits of taking a cruise around the world.
Make New Friends
Cruises can sometimes far exceed the 1 to 2 week average duration of a normal holiday depending on what's on your itinerary. Offering plenty of opportunity to meet and talk to new people, why not pluck up the courage to have a conversation with that couple who always seem to be at the breakfast buffet at the same time as you? Always commandeering the same sun loungers? Chat to your neighbour.
Living in such close quarters together for an extended period of time means conversation is bound to come around naturally anyway. Get to know new people and you never know, you might even make a friend for life? And, lets face it, you might get a bit sick of whoever you've gone away with, so it's the perfect way to get some respite.
The Easiest Holiday is the Cruise
We touched on it before in regards to that convenient one-off payment and saving money. But this also means cruises are a really easy holiday to plan. Very little planning has to go into it beyond choosing the cruise you want to go on. After that, you simply have to get to the port (no need for airport transfers or sticking to meticulous luggage limitations) and relax.
You can choose activities and excursions once you're on board, but beyond that the ship will do much of the work for you. You can simply take in the sights and enjoy an easy going holiday and take it at your own pace.
Truly Disconnect on Holiday
Technology has obviously come a long way and many of the ships are equipped with WiFi. But, in the heart of the ocean, there is something to be said about feeling completely removed from the chaos of day-to-day life. Whether you decide to ditch your phone altogether whilst you're away or not, enjoy the calm nature of a cruise and take some much needed 'me' time.
It's worth considering a cruise the next time you sit down to budget in your annual holiday. A more relaxed approach to holidaying, you can expect to reap the benefits of feeling stress-free from the offset with the option to fill every hour of your day with fun activities if you choose. And, of course, to top it all off, you can see some incredible places across the globe worthy of ticking off your bucket list.