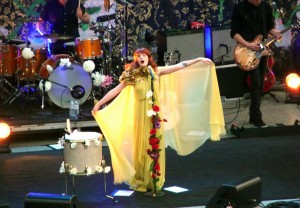 The Mercury Prize is one of the most prestigious music awards and honors the best album by a U.K. artist. Each year the competition is tough and this year's list of nominees includes some of the best artists around.
The Mercury Prize Ceremony will take place in London on November 20th. Organizers of the Mercury Prize are crossing their fingers that a rare appearance by Aphex Twin will occur during the event. The ceremony includes performances and the organizers are hoping Aphex Twin performs.
The Mercury Prize has been around since 1992 and in recent years, James Blake took home the award for the album Overgrown. Alt-J's An Awesome Wave and P.J Harvey's Let England Shake were also recent winners.
This year's list of about a dozen potential Mercury Prize winners include Aphex Twin's Syro, Gaz Coombes' Matador, Salves' Are You Satisfied, Ghostpoet's Shedding Sking, Jamie xx's In Colour, Florence and the Machine's How Big How Blue How Beautiful, Wolf Alice's My Love Is Cool and Soak's Before We Forgot How to Dream.
It is no surprise that the front-runner to win the Mercury Prize is Jamie xx. In Colour is an amazing album and Jamie xx is no stranger to this award. The xx's debut album actually won the award back in 2010.