Travel Hymns BUKU 2014 Coverage
This weekend we're living the dream alongside friends from our sister site Just Noise To Me — and by 'living the dream', we mean cramming into a rental car and driving +20 hours from our downtown Phoenix offices into New Orleans for the 2014 installment of the BUKU Music + Art Project. Good gracious, y'all.
So what will we be doing instead of comfortably sleeping in a bed all weekend? Something far, far better — providing live coverage of BUKU as it happens, covering some of our favorite artists in the process. Who are we most excited to see this year? Here's a highlighted version of the schedule floating around our offices.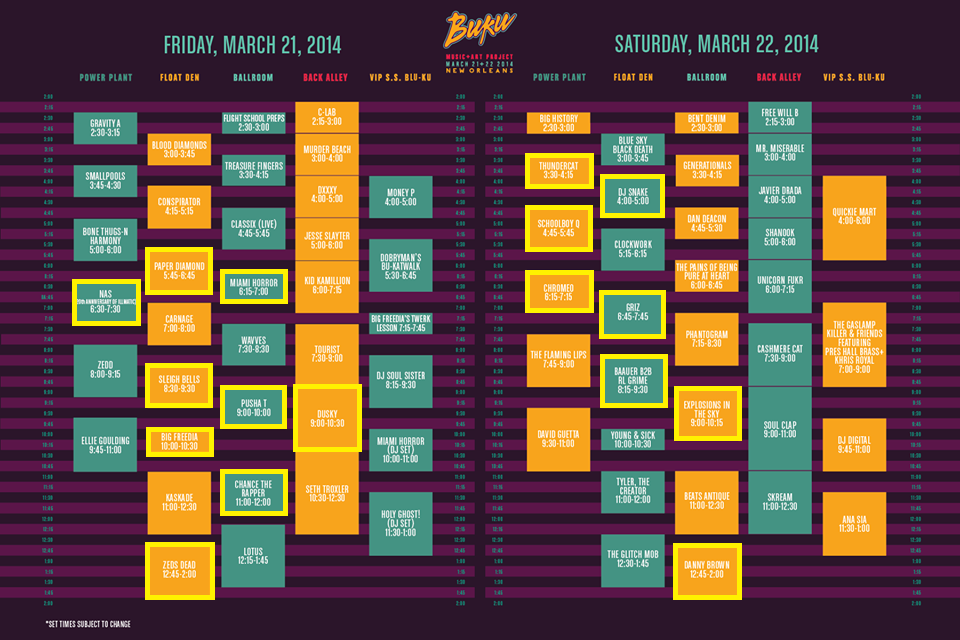 This lineup is brimming with some top hip hop talent like Pusha T, Schoolboy Q, Chance The Rapper and Danny Brown. The late addition of Nas to the lineup and news of Illmatic being performed in its entirety is worth the price of admission alone.
One of our favorite b2b sets ever took place with Baauer and RL Grime at the Boiler Room. We're hoping the duo will channel some familiar magic this week. Oh, and we're also pining to see all new Chromeo material in a live setting.
Do you happen to be around Louisiana this weekend? Come party with us in the Big Easy. Don't forget, BUKU 2-Day tickets are still on sale right now and going for $169.50.