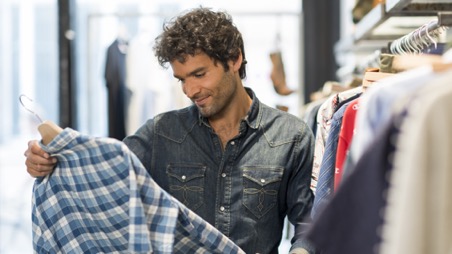 The fashion world for male style is changing. As we start to become more conscious in the items we buy, fast fashion is becoming a thing of the past and simple good quality cuts and design that stand out are now the order of the day.
Of course the normal fashion giants are still very much at the top of the list: Nike, Adidas, Fred Perry and the high fashion brands like Gucci and Dolce and Gabbana, all still very relevant.
But there are a stream of brands breaking through, many have been almost underground for many years. There are also many great known brands forming new collaborations and producing new interpretations of classic design and style. Here is your guide to the brands that will make you stand out from the crowd.
Celebrate skater style with Fucking Awesome
With skater style coming to the forefront in mens fashion this year, one place to head to for top streetwear this year is New York fashion brand Fucking Awesome for the latest new prints and vibrant lively tees.
If you're new to the skater world, you might not have heard of the founder and creative director Jason Dill, the enigmatic skateboarding legend responsible for the brand.
He cut his teeth training with the brand Supreme, also seeing a revival in the last few years, before launching Fucking Awesome 13 years ago. Since then the brand has become known for quality clothing and a provocative attitude displayed though prints and messaging across t-shirts and hoodies and every aspect of the brand.
They have also now launched a range of skateboards that also embody the brand ethos available to buy here if you really want to embrace the skater culture and start learning some skills. This is a well established brand and definitely one to watch out for this year as it starts to hit mainstream awareness.
Invest in classic design with John Elliott
Every wardrobe needs a few staple pieces and classic that will stand the test of time. It is more important than ever to help reduce the impact the fashion industry is having on the environment to turn away from fast fashion, and opt instead for great fit and long lasting quality materials.
Look no further than the American designer John Elliott, who makes it his key focus to look at cut and quality of the materials used. His functional and simple style, you can see more in SVD creates instant classics, yet with a contemporary feel that keeps the brand fresh and modern.
The reason these pieces are so sought after is due to their customer-centric design. John Elliott approached his design by trying to solve the common problems he and others found in their own wardrobe, and sought out unique fabrics, and on many occasion developing new fabrics that fit the needs of each piece sourced all over the world from specialist manufacturers.
Support eco-friendly garments with Patagonia
It is now common knowledge that the fashion industry as a whole is one of the worst polluters on the planet. From waste materials during production and from unwanted garments previously owned, to the chemicals used, the carbon footprint left in manufacture and distribution and way many workers are treated it is no wonder eco-conscious consumers are looking for less harmful brands.
And Patagonia is one of them. Founded in 1973 by the climber Yvon Chouinard, the brand is focused on clothing for outdoor activities that is functional and well made. The Californian brand is also well known for its fight against climate change, creating eco-friendly garments and donating some profits to environmental groups.
They look to "build the best product, cause no unnecessary harm, use business to inspire and implement solutions to the environmental crisis". You can be safe in the knowledge you can shop this brand guilt free.
Billionaire Boys club for great urban looks
What do you get when you cross American music superstar Pharrell Williams with Japanese designer and founder of BAPE Nigo – Billionaire Boys Club. Leading the way in urban styles that take inspiration from street culture and the evolution of hip hop.
Offering clothing and accessories that really stand out, with strong big logos, great use of colour and head turning prints, any maximalist will instantly fall in love. Given the low key nature of so many men's brands, a couple of vibrant pieces from this brand will really allow personality to shine through and makes a great compliment to more classic pieces. Don't be afraid to mix prints. This one is a little trickier to get hold of in Europe so you can feel pretty confident you will be the trendsetter with this one.
Look for new collaborations across all the brands
We are well used to collaborations in music, it's always exciting when  our favourite artists come together to create something amazing.
It is no different across clothing brands, and you'll quite often see this with sneaker brands like Nike and Adidas bringing in world renowned designers to add new flavour to classic designs. The same is true of clothing.
Take for example this season's collaboration between British menswear designer Martine Rose with Italian outdoors brand Napapijri. They have taken their inspiration from the 90's fusion of high-end fashion and streetwear, and the Napa by Martine Rose collection is the result. Great iconic outerwear, made with the best materials and with block colours layered over the top, it gives a unique aesthetic.
Another great clothing collaboration is the work between Danilo Paura, of Paura and Mirror fame and Kappa. His approach to materials and reinterpretation of a classic sportswear design gives a completely new flavour to this revived brand.
Focusing on the famous 222 Band, the stripe of Kappa logos synonymous with the brand, Paura brings in unusual mixes and colours, with laser printed denim and different types of technical polyester. This new positioning of a seasoned classic is a sure way to be a little different in your style.