Travel Hymns Presents the South by Southwest 2014 Preview
With the final months of the year looming, South by Southwest 2014 (SXSW) is just around the corner – the largest collective arts festival in the world that regularly features the biggest artists to watch
Here's some quick facts about SXSW …
Located in Austin, TX, the first annual installment occurred in 1987. 2014 marks the 26th year of activity.

The 'official' lineup has recently included over 2,000 artists playing in over 100 venues.

SXSW is a three-headed beast of music, film and interactive festivals. Kind of like Cerberus only more artsy.

Festival attendance is marked at 82,000 for the music conference, 30,000 for the interactive conference, and 4,000 for the film conference.

SXSW is organized and operated by SXSW Inc, a company that also hosts educational and environmental conferences.

The festival is considered the best music festival in the US by many fans, including us.
A visual representation of SXSW …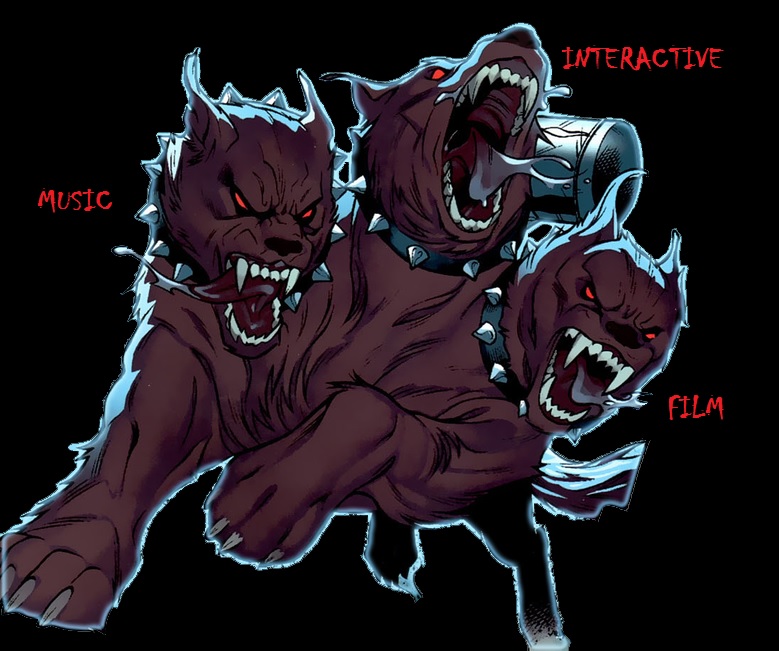 If you're interested in the full SXSW history and have additional questions, check out the official festival FAQ.
SXSW Playlist
SXSW Ticket Prices
In order to attend South by Southwest festivals, you'll need to purchase a badge. The badge you purchase depends on the SXSW experience you're looking for. Registration badges are required to access SXSW Conference, Festival and Trade Show events. You can easily register here.
Here's a look at the different options,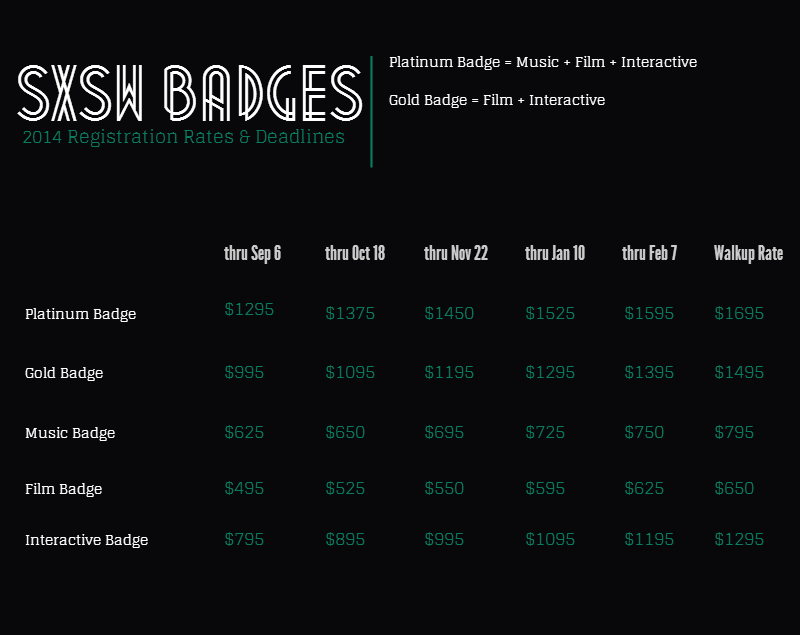 According to the official SXSW site,
SXSW Platinum, Film, Interactive, and Gold Registration is open:
Thursday, March 6th: 10 am to 10 pm

Friday, March 7th: 9 am to 11 pm

Saturday, March 8th: 9 am to 6 pm

Sunday, March 9th: 9 am to 6 pm

Monday, March 10th: 9 am to 6 pm

Tuesday, March 11th: 9 am to 10 pm
SXSW Platinum, Music, Film and Gold Registration is open:
Monday, March 10th: 9 am to 6 pm

Tuesday, March 11th: 9 am to 10 pm

Wednesday, March 12th: 9 am to 10 pm

Thursday, March 13th: 9 am to 10 pm

Friday, March 14th: 10 am to 7 pm

Saturday, March 15th: 11 am to 4 pm
Are SXSW VIP Tickets Worth It?
SXSW does not explicitly offer VIP tickets, instead requiring attendants to purchase badges allowing them access to the different festivals. Provided you have a lot of time on your hand and money to burn in Mid-March, purchasing a Platinum badge is an excellent decision when talking about the best music festival in the country.
Here's a quick list of semi-compelling reasons you should consider a Platinum Badge,
You get to experience the full glory of South by Southwest.

You learn from important people in the film and music industry during exclusive keynotes.

You can rub elbows with famous folks like Conan O'Brien, Mike Tyson and Grumpy Cat.

You take an extended vacation in Austin, TX and Austin, TX is awesome. Just look.

You will relay to all the world that you're a baller, putting numbers on the board.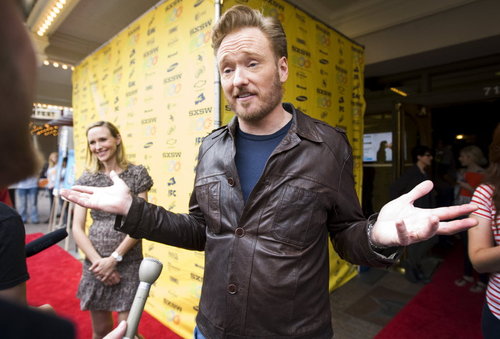 SXSW Lineup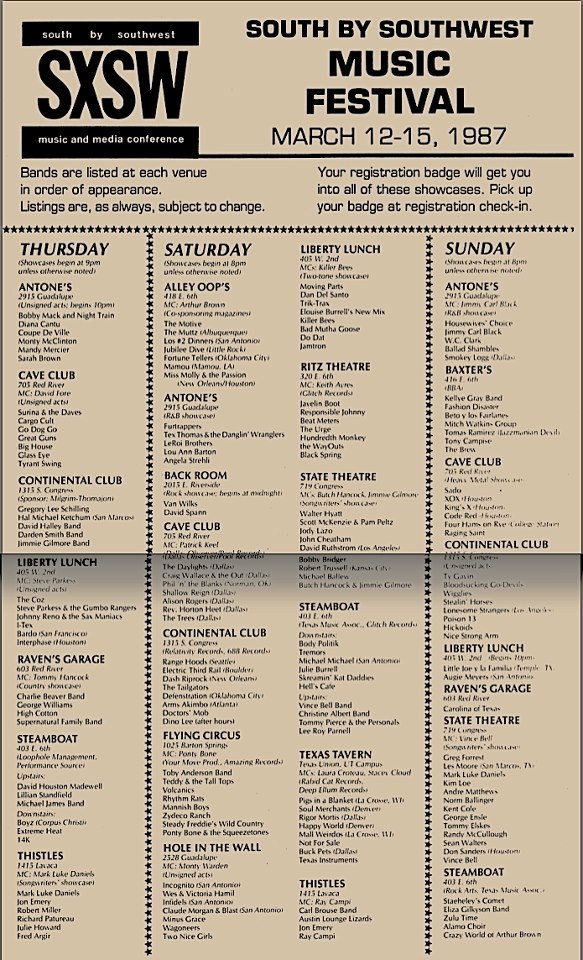 For an updated list on who's playing, visit our friends at Festival Outlook.
SXSW Hotels and Hotel Packages
Looking for a hotel for South by Southwest? The official SXSW site provides a great resource including tips on how to get around.
Alternatively, here are some of our favorite hotels in the Austin area.
*Prices reflect averages.
Holiday Inn Express – $144 per night – 2-stars

Hampton Inn Austin – $377 – 3-stars

Hotel Saint Cecilia – $295 per night – 4-stars
SXSW Weather Forecast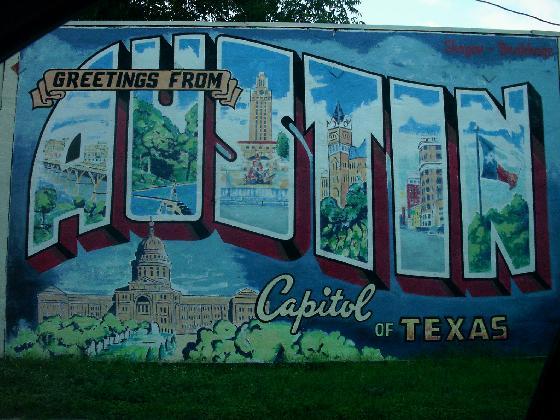 What's the weather forecast in Austin during South by Southwest? Check it out,
*Degrees in Fahrenheit
The average temperature is 61.5.

The high is 71.9.

The low is 51.1.

The precipitation is 1.9 inches.

The weather is considered mostly cloudy.
With dozens of venues to attend, many of which are indoor, the weather is hardly a factor you'll need to contend with.
We recommend dressing comfortably during the afternoon. Occasionally the sunshine peeks out through the cloudy month of March but temperatures rarely if ever exceed 90 degrees. Evenings are often chilly in Austin so you might consider bringing along a jacket – whatever doesn't cramp your style.
 SXSW Fashion and Style
There's only one rule when it comes to your clothing options for South by Southwest: Keep Austin weird.
Here are some of our favorite SXSW fashion and style.
SXSW Food and Beverages
With South by Southwest taking place all over Austin, there's no shortage of amazing places to eat and drink. Here's some of the very best tastes of the city. In case you haven't been paying attention, we love dive bars.
Food Trucks 
Via 313 – A late-night food truck that serves some unreal authentic Detroit-style pizza.
East Side King – The most critically acclaimed truck in Austin, eastern cuisine on steroids.
Dive Bars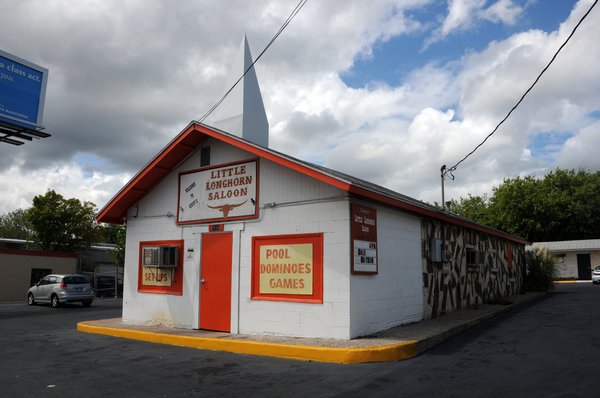 Ginny's Little Longhorn Saloon – A dive bar with character, this is a great place to hear local bands and drink on the cheap.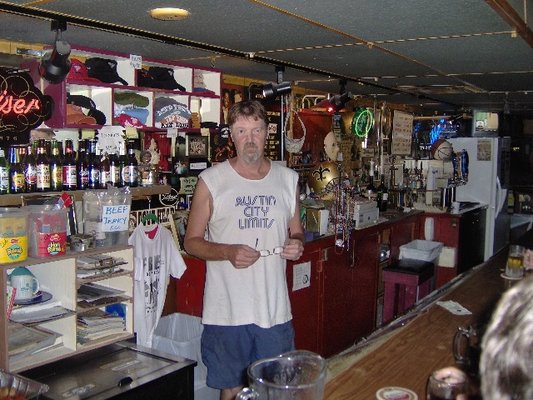 Deep Eddy Cabaret – A favorite dive of locals, stop by if you're near the lake and want to take in a game and brew.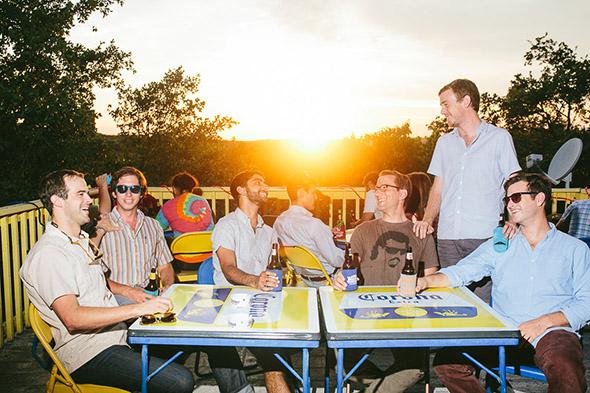 Dry Creek Café & Boat House – Representing some of Austin's charming past, the Boat House provides some great views of the city.
Restaurants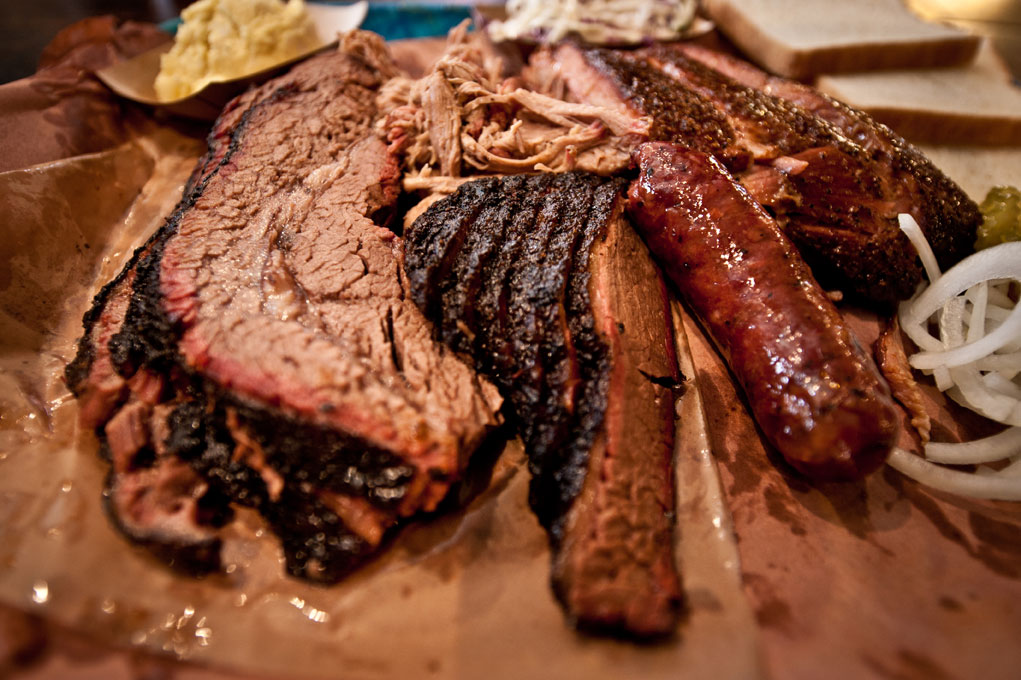 Franklin Barbecue – Considered some of the best BBQ in the city, you better be ready to eat by the time you sit down.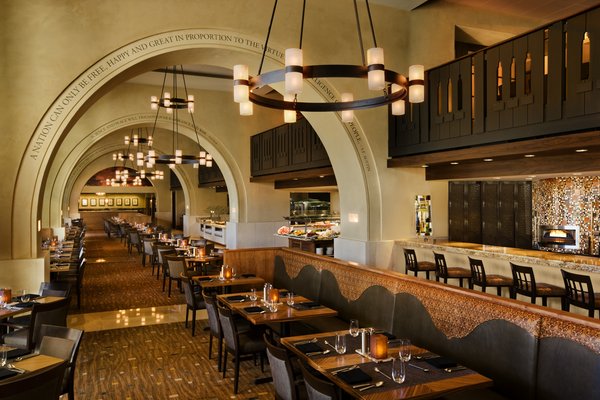 The Carillon – Looking for something upscale? Check out The Carillon, the fabled pork belly is the last meal you'll ever need.