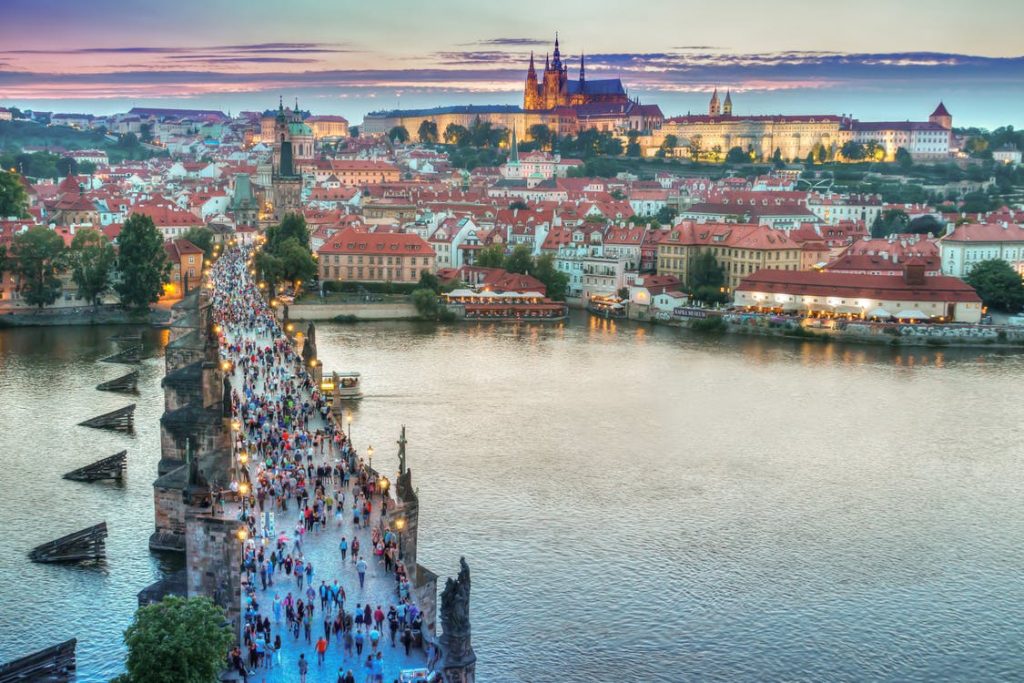 When it comes to visiting a new city, there is always that niggling pressure for you to tick off all the must-see sights and ensure you're not missing out on something essential. However, here at My Favourite Voucher Codes, we're all about taking a new city in our stride and making a trip our own. So, whether you're all about scoping out the locations that boast the best views or want to see the city off the beaten track, we've brought together our favourite pastimes in Prague.
Where to Get the Best View of Prague?
Admittedly taking in a breath-taking view is one of our favourite things about visiting somewhere new and being able to see how the city stretches out in front of you. With Prague's spectacular uniform buildings, it really is a sight to behold, reminiscent of a fairy tale land. Ensure you have suitable accommodation and you can be in walking distance of these amazing spots. Find the best deals and ensure you get a central hotel or apartment using Lastminute.com voucher codes and save as much as 50% on your stay.
But where are the best places to get a good look at this Czech city?
Take a trip up the Funicular
Even if you go up and come back down straight away, Prague's funicular railway is great fun and gives you a peep of the city below through gaps in the trees. At the top you can take in the beautiful gardens of Petrin Hill and enjoy a laidback afternoon.
Petrin Lookout Tower
Conveniently the funicular takes you to two great vantage points in Prague. The first is the Petrin Lookout Tower. Built in 1891, the Petrin Lookout Tower is the Eiffel Towers dramatically shorter cousin. With a similar structure, this 60m tower offers two levels that give panoramic views of Prague.
Prague Castle
An easy stroll from hitting up the great heights of the lookout tower, you can find your feet again and get more incredible views from Prague Castle. Walk to Hradcany Square and see the changing of the guards on the hour, as well as a closer look over Prague where you can pick out key landmarks like Charles Bridge and the gothic church in Old Town Square.
Fun Activities to do in the City
Pedalo Along the River
Take a breather from the hustle and bustle and see Prague from a calmer point of view. You'll see lots of boats and pedalos bobbing along the River Vltava and believe us when we say you'll want to be on one yourself. Holding a group of four, you can pay about 300 CZK split between you, which works out as just over £2.50 each.
From the river, you can take in the incredible buildings and avoid the hustle and bustle of the tourist infested Charles Bridge. A great activity to do when you first arrive in the city, you can also get your first glimpses of Prague Castle as well as other key buildings like the golden roofed National Theatre.
Take a Walking Tour
Prague is packed full of incredible history, from its split with Slovaki to being controlled by communist dictator, Stalin. Whether you're a bit of a history nut or you simply want to ensure you tick off the must-see sights, taking a walking tour is one of the best ways to ensure you're clued up on the city. There are plenty of options to fit your budget, too. Find free tours where you can decide how much you tip or upgrade to luxury tours that span across 6+ hours with a river cruise included.
Go to the Vltava Beach after Sunset
Not quite the sandy beaches you might associate with when going on holiday, the Vltava Beach is still a great place to take a few moments to just breathe in the city. Sit amongst the cobbles, watch the swans and get a great view of Charles Bridge. Our go-to time would be in the evening as the sun is going down. As the city lights up, see the beautiful illuminations of the buildings reflected on the water's surface.
Sweet Treats to Try in Prague
Sure, their bread and potato dumplings are delicious soaked in beef goulash. You also have to sample one of the Czech speciality pork dishes. But we're all about the desert options and Prague has got it all, from rich pastries to a refreshing ice cream – even if you're visiting in the cooler months, you need this gelato in your life.
Staroceske Trdlo
Available at a lot of the street food vendors, these tube-like pastries are dipped in a mixture of sugary, cinnamon-y goodness and oozing with fillings of your choice including Nutella, custard and cream. Served freshly from the grill, they're the perfect snack no matter the weather.
Gelato at Amorino
Although gelato might not be strictly Czech (at all), it does taste pretty good. Made even more yummy when masterfully moulded into the shape of a flower with a macaroon in the centre just to finish. That's what you can expect when getting an ice cream from Amorino. Choose from their range of flavours, both gelato and sorbet and choose as many flavours as you like to build your beautiful petals.
Prague is packed full of things to do. There's history around every corner, as well as beautiful buildings and other interesting exhibits. The best part? Even simply strolling the cobbled streets is an experience. One to re-visit again and again, there's plenty on offer in the Czech Repulic's capital city and we're already planning our next trip.