HARD Day of the Dead 2013 Set Times
You can officially begin planning your weekend now, the team at HARD has released the official scheduling times.
Not sure who to see? We've highlighted our favorite sets below.
Saturday, November 2nd
Sunday, November 3rd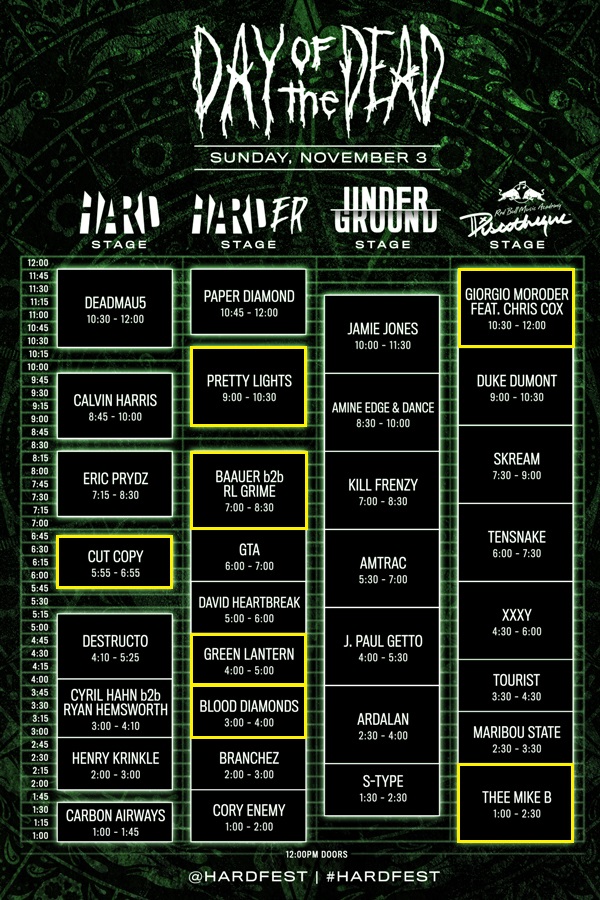 There mercifully appears to be far less time conflicts than what you typically see from HARD Summer, as is usually the case with Day of the Dead. The smaller range of artists gives huge EDM fans a chance to discover some awesome new artists including Thee Mike B. For those of you more interested in touring downtown Los Angeles, you'll cross into 'can't miss' artist territory closer to the late afternoon.
Who are we most excited to see overall? The inclusion of Giorgio Moroder on this year's lineup is truly something special. It's refreshing to see a festival acknowledge an electronic legend like Moroder, definitely a nod to some of the older fans of HARD Presents. Hell, the inclusion of the designated disco stage is downright awesome. It'll be difficult to pull us away from some of the earlier artists to see the later headliners, but there's no way we'd want to miss a b2b set with RL Grimes and Baauer.
See you in November, HARD fans.