Hangout Music Festival 2014 Lineup – Black Keys, OutKast and … Jack Johnson?
The fine team over at Hangout Music Festival just dropped their official lineup. Check it out below.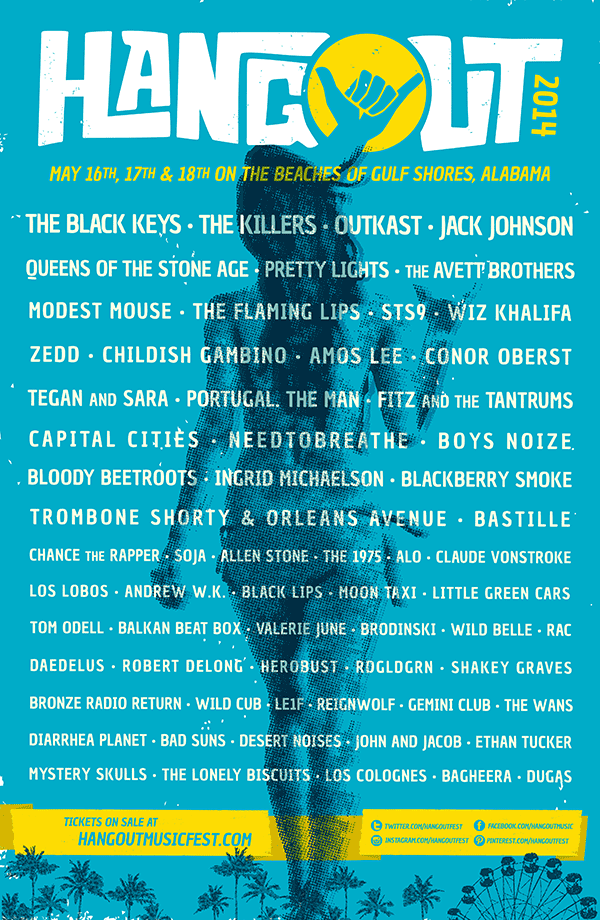 Some good billings here including Andrew W.K., Pretty Lights and Diarrhea Planet purely based on name value alone. We're a little surprised to see Jack Johnson receive top billing, but what do you really expect with a name like Hangout Festival?
Here's a text version of the lineup for all your copy and pasting needs,
The Black Keys
The Killers
Outkast
Jack Johnson
Queens of the Stone Age
Pretty Lights
The Avett Brothers
Modest Mouse
The Flaming Lips
STS9
Wiz Khalifa
Zedd
Childish Gambino
Amos Lee Conor Oberst
Tegan and Sara
Portugal The Man
Fitz and the Tantrums
Capital Cities
Needtobreathe
Boys Noize
Bloody Beetroots
Ingrid Michaelson
Blackberry Smoke
Trombone Shorty & Orleans Avenue
Bastille
Chance The Rapper
Soja
Allen Stone
The 1975
ALO
Claude VonStroke
Los Lobos
Andrew W.K.
Black Lips
Moon Taxi
Little Green Cars
Tom Odell
Balkan Beat Box
Valerie June
Brodinski
Wild Belle
RAC
Daedelus
Robert DeLong
heRobust
RDGLDGRN
Shakey Graves
Bronze Radio Return
Wild Cub
Le1f Reignwolf
Gemini Club
The Wans
Diarrhea Planet
Bad Suns Desert Noises
John and Jacob
Ethan Tucker
Mystery Skulls
The Lonely Biscuits
Los Colognes
Bagheera
Dugas