Gem & Jam 2014 Preview — Tucson's Colorful Live Art Fest
A collaboration between Euphonic Conceptions, Infinite Music, New Earth MuZiQ and Challenger marks the 8th annual installment of Tucson's exceptional live arts event Gem & Jam. Nearly a decade into its run in 2014, G&J continues to create colorful and expansive ways to engage the artistic crowds that call this small Arizona city home. Known for its eclectic sense of sounds, Gem & Jam is every bit a feast for the eyes — featuring cosmic visuals and live painting from some of the loudest names in the art world.
Spanning across the weekend of February 7th – 9th, every night of this festival featuresvisuals by Johnathon Singer, live art and performances, and gem and mineral vending. If you're looking to take home a unique souvenir  in addition to an unforgettable weekend, Gem & Jam is the place to do it.
This festival has an endless array of attractions to appease wandering eyes and ears. You don't want to miss it.
Gem and Jam 2014 Lineup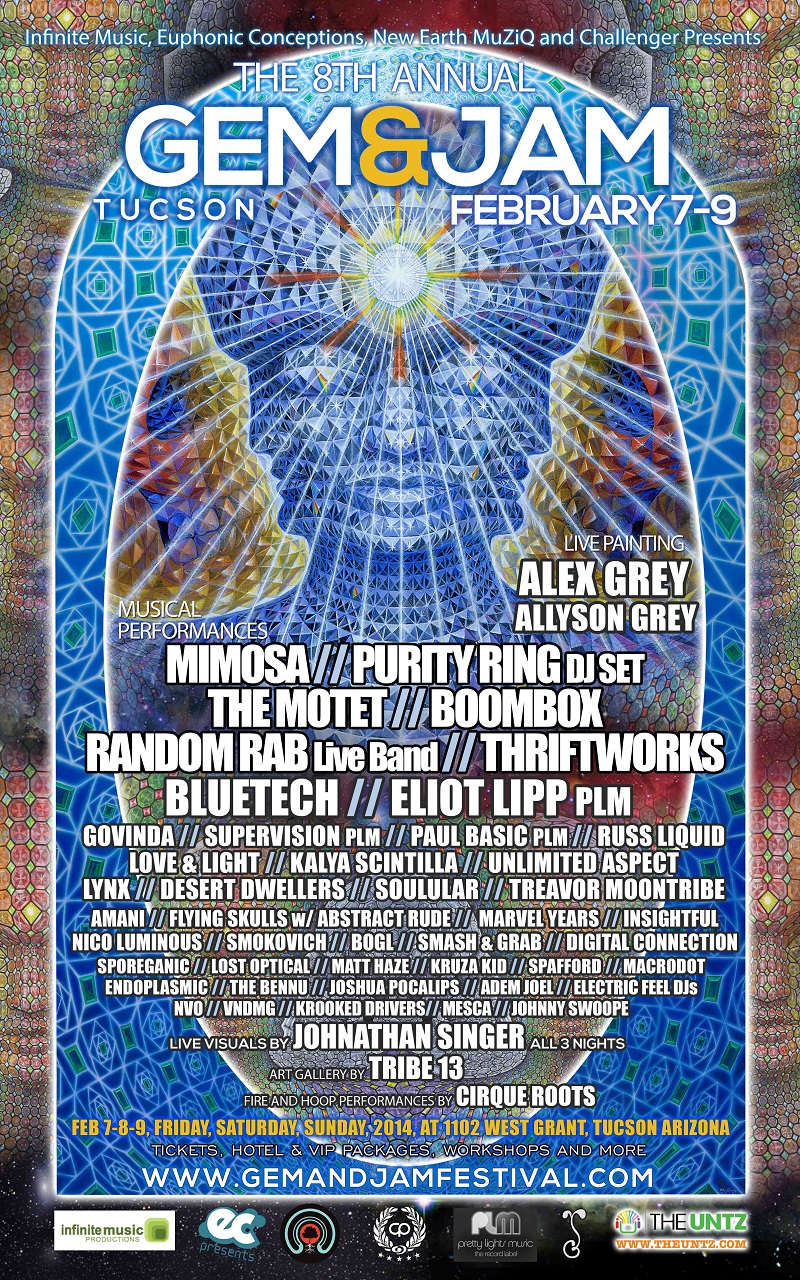 ALEX GREY & ALLYSON GREY // MIMOSA // PURITY RING (DJ Set) // THE MOTET // BOOMBOX // RANDOM RAB (LIVE BAND) // THRIFTWORKS // BLUETECH // ELIOT LIPP // RUSS LIQUID // LOVE & LIGHT // TWO FRESH // KALYA SCINTILLA // SUPERVISION (Pretty Lights Music) // PAUL BASIC (Pretty Lights Music) // DESERT DWELLERS // SOULULAR // INSIGHTFUL // MARVEL YEARS // NICO LUMINOUS // TREAVOR MOONTRIBE // AMANI // MATT HAZE // KRUZA KID // SMOKOVICH // SMASH & GRAB // BOGL // VNDMG // DIGITAL CONNECTION // LOST OPTICAL // NVO // SPAFFORD // ENDOPLASMIC // MACRODOT // THE BENNU // JOSHUA POCALIPS // ADAM JOEL // ELECTRIC FEEL DJ'S
Gem & Jam Mix
Gem & Jam Tickets
3-Day Passes Discounted Presale — $124.90
Single Day Passes — $50.70
3-Night After Party Pass — $45.40
Single Night After Party Pass — $18.90
Alex Grey Workshop (Sunday 11am-5pm) — $130.20
For more information on tickets and hotel options, click here.
Gem & Jam Weather Forecast
Average high: 68 degrees Fahrenheit
Average lo: 44 degrees Fahrenheit