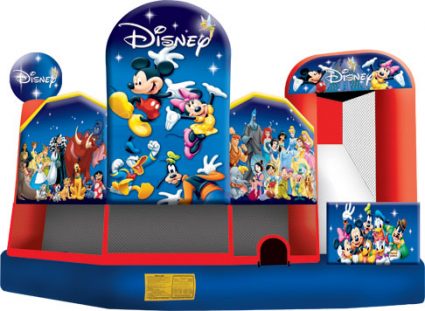 Everyone knows that a bouncy house is a great way to entertain the kids at birthday blowouts and other parties. But you might not have thought of the other occasions where a bouncy house might be just the perfect thing.
Bounce your way to happily ever after
If you've never thought about getting a bouncy house for your wedding, then it's about time you did. Weddings often involve so much stress, and you would be amazed at the power the bouncy house has to lower stress levels, even in adults.
Not only that, but a bouncy house at your wedding offers some amazing photo opportunities that you can't get in any other way. Imagine the fun when the bride and groom have their first bounce together instead of their first dance. Also imagine the relief for parents when bored children attending the event have a bouncy house to play in.
Jumping to the big 5-O
Turning 50 years old can be a serious and solemn moment. But it doesn't have to be. Instead of surrendering to the staid maturity of a dull middle age, why not announce your determination to hold on to your youthful enthusiasm all the way through life?
A bouncy house rental is as much fun for adults as it is for children. If you aren't sure that's true, then you need to get a bouncy house and try it for yourself. It's fun, relaxing, and a great way to distract yourself from the fact that you're turning 50.
Keep the marriage lively
Another anniversary is coming, and you need something different, unique, and fun. You need something that shows your marriage is as fresh and filled with unexpected and fun moments as it ever was. What better way to honor that concept than with the bouncy house?
Few people will be expecting it when they come to your anniversary party, but everyone will enjoy it. A bouncy house is inexpensive, easy to set up, and leaves behind no mess. Your guests will be talking about your unique anniversary party for years to come.
Rock the family reunion this year
Family reunions are the events that we all love to hate. It's great when we see everyone for the first time in at least a year. The first few hours are full of hugs and tears; laughter and storytelling; reconnecting and enjoying one another's company. But what about the next day?
We all know that things can get a bit tense with everyone crammed together for a couple days. People get short with each other and the kids start to get bored. Renting a bouncy house for at least a part of your family reunion means there's always a place for the kids to play or for adults to retreat to and jump away a little of that angst.
Celebrate an achievement the right way
If you know a freshly minted graduate and are planning a party to honor their achievement, don't count the bouncy house out of your plans. It's a fun way to provide your guests with a enjoyable activity and lighten the seriousness of the moment just a bit.
In fact, if your graduate is about to head off to university or a life in the working world, what better way to celebrate than to give him or her the chance to relive childhood, even if it's just for a few moments? And as with all the other events on our list, you'll get some amazing photographs of your graduate and their friends enjoying their bouncy house.
A bouncy house is the perfect rental to celebrate almost any life event you can imagine. Everyone enjoys it, from the oldest to youngest, and it makes for a unique and enjoyable way to spend time with the people we appreciate most.