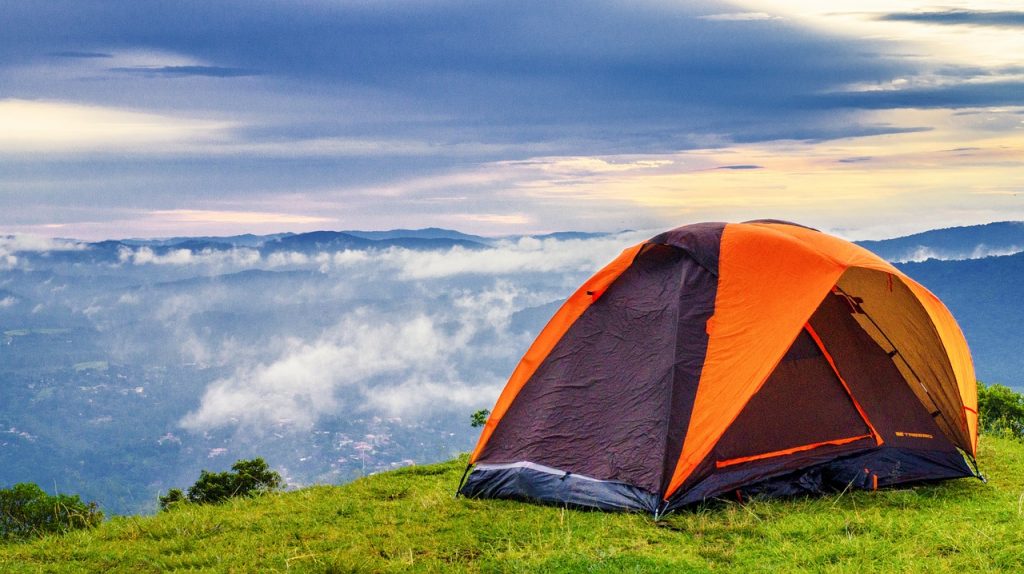 Whether you do it solo, with your partner, or with a group of friends, camping is a fun and exciting activity. However, since you're going to be outdoors and possibly a considerable distance away from urban centers, you need to be prepared. Accidents, unfavorable weather, and encounters with wild animals are just some of the unfortunate things that can happen during a camping trip, and you want to be ready for all possible scenarios
Here are nine things that any camper, whether beginner or experienced, should never camp without:
1. The Right Tent
Your tent is basically your shelter and the first line of defense against the weather, insects, and unpleasant things in your environment, so you should always choose the right kind of tent to bring. There are several things that you should consider when choosing a tent.
First, you need to consider the size of the tent. How many people are going to sleep inside and still fit comfortably?
Second, you need to consider the weather conditions of the area. Will it be raining, hot, humid, snowing, buggy, or windy? Will your tent protect you from the elements, the temperature, the moisture, and the animals? If you're camping near Salem, Oregon, for example, you should prepare for the wet and cold weather. If you're camping in Big Sur, California, the weather is generally hot and humid.
Finally, you need to consider the material of the tent. Is it strong and durable, but still lightweight and easy to set up? If you go camping regularly, you should consider investing in a high-quality tent that's waterproof, strong, tear-proof and has good insulation. These are generally more expensive, but they will offer you the best possible protection when camping.
2. A High-Quality Sleeping Bag
The best way to enjoy your camping experience is if you get a good night's sleep. Look for a sleeping bag that's warm, comfortable, and provides great insulation, but is still easy to store and carry. The camping environment will dictate the type of sleeping bag that you need. However, there is no "one" sleeping bag that can cover all types of possible camping conditions, so you should consider buying more than one type if you go camping regularly.
3. Clean and Fresh Water
This cannot be stressed enough: always have clean and fresh water when camping. You need it to drink, to cook with, and even to take a bath and clean yourself. Never rely on natural water sources because you can't be 100% sure how clean or sanitary the water is. You should even consider bringing water filtration devices such as tablets or purification straws.
4. Durable and Reliable Camping Stove
Purchase a small and portable camping stove so that you can cook your meals easily. There are several models available depending on the fuel source used. You can choose gas models, electric models, or even wood-burning models.
5. Appropriate Weather Gear
As with your tent and sleeping bag, you need to prepare the appropriate weather gear when you go camping. At the very least, bring a high-quality jacket that's waterproof and windproof. However, if you're going camping in extreme conditions such as heavy snowfall, make sure to protect your hands, your head, and your legs properly.
6. Multipurpose Knife
There's no end to the purposes that a knife can present during a camping trip. You can use it to prepare food, cut rope, open cans, remove stones from your shoes… the list can go on and on! There's a reason why the multi-purpose Swiss knife is one of the most popular tools for campers.
7. Complete First Aid Kit
There is always a chance that something going wrong during a camping trip and you should always be prepared. A complete first aid kit will help you deal with common injuries such as small wounds, bruises, and scrapes.
8. Strong Light Source
Always keep in mind that you will be far from electric sources and you need to be sure that you have a strong and reliable light source. You might even consider bringing more than one type of light source. Bring a portable rechargeable light source such as a flashlight or lamp, and have a backup fuel-powered lantern just in case.
9. GPS Tracker
A GPS tracker can be an essential tool when you are camping. It helps you pinpoint your exact location so that you won't get lost and if anything goes wrong, you can send your coordinates to other people who will send assistance.