Electric Forest 2014 Listening Guide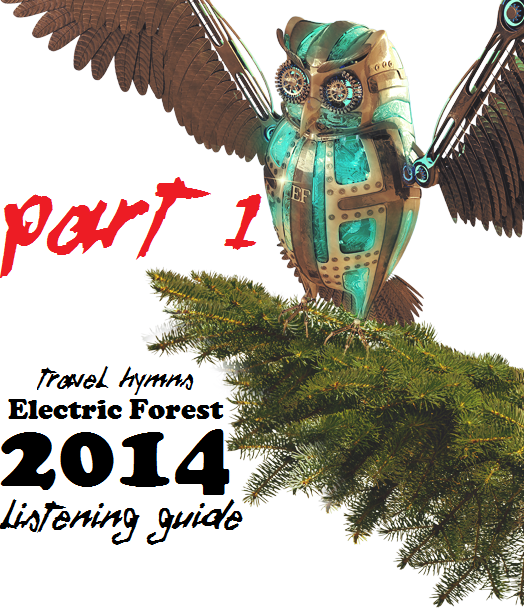 12th Planet
Dubstep, Jungle Drum/Bass
LA native John Dadzie, known to his fans as 12th Planet or Infiltrata, fell in love with electronic music during his high school days. Considered an original dubstep pioneer, he's often hailed as the 'American Dubstep King'.

Alex Metric
Synthpop, Progressive House, Nu-disco
London's own Alex Drury has long been inspired by funk and disco. With a sharp ear for melody, his remixes feature huge names like Phoenix, Ellie Goulding and Bloc Party.

Aloe Blacc
Soul, R&B
Aloe Blacc exploded into the public spotlight with tracks like 'I Need A Dollar', his momentum hardly slowing. One of the most soulful artists showcased at Electric Forest this year.

Anders Osborne
Rock, R&B, Blues
Originally born in Sweden, Osborne is an American singer and songwriter who grew up with influences like Bob Dyaln, Neil Young and more. His vocals were shaped after Ray Charles and other soulful legends of the past.

Andy C
Drum and Bass
English bred Andrew John Clarke, or Andy C, is the producer and co-founder of the RAM Recording Studio. He's considered one of the originators of the drum and bass genre.

Anna Lunoe
EDM, House
Talented and beautiful, Anna Lunoe followed in the wake of other talented Australian producers like Flume. Most of her commercial work are actually direct collabs with Harley Edward Streten.

Art Department
Techno, House
Far from traditional, Art Department is a unique collaboration from two veteran producers who toyed with a collaboration for years. The finished product proved hugely influential among the electronic scene.

Bob Moses
Electronic
Two casual acquaintances in a Vancouver high school art class would later form Bob Moses, described only as 'music that will make you want to build a highway through a low income neighborhood.'

Bombino
Rock, Blues, World
Equal parts acclaimed guitarist and political activist, Nigerian Omara Moctar frequently uses his music to address pressing Tuareg geopolitical issues.

Booka Shade Live
Techno, House
The Berlin duo of Walter Merziger and Arno Kammermeier are longtime pioneers among the electronic scene, their work dating back multiple decades.

Bro Safari
Trap
Believe it or not, one of the biggest figures in trap hails all the way south to from the great state of Texas. Bro Safari has produced some of the most recognizably sampled tracks among the EDM circuit.

Cash Cash
EDM, House
AN American EDM outfit out of New Jersey, Cash Cash has produced major remixes for the biggest pop artists like Capital Cities, Kelly Clarkson, Bruno Mars and Icona Pop.

Cashmere Cat
Electronic
Norway's Magnus August Høiberg, or Cashmere Cat, burst onto the scene following his appearance in the World DJ Championships, touting major remixes like Lana Del Rey and 2 Chainz.

Catz n Dogz
EDM
Berlin and Polish producers Greg and Voitek united to make exceptional house music among peers like Justin Martin.

Cherub
EDM, Synthpop
An electropop duo borne from the love of 80's dance and funk, Jordan Kelley and Jason Huber strive to create original pop music in a genre full of repitition.

Chrome Sparks
EDM, Disco
Ann Arbor's Jeremy Malvin, or Chrome Sparks, was inspired by classical percussion and obsessed over synthesizers, influencing his heavy lean toward disco tones.

Conspirator
Electronic
The duo of Disco Biscuits' March Brownstein and Aron Magner often incorporate guest musicians within their live performances. Every performance is markedly different.

Cut Copy
Synthpop, Indietronica
Formed in 2001, Australian electronic outfit Cut Copy originally cut their teeth as a home-recording project. The band quickly expanded and discovered national success with major dance singles.

Dantiez Saunderson
Deep House
One of the smaller acts looking to make a name for himself this year, Michigan's own Dantiez Saunderson only forayed into music in 2012 at the age of 20. His fast rise in the scene is nothing short of swift.

Dead Confederate
Alt Rock, Psychedelic
One of the few alternative rock bands present this year, Georgia's Dead Confederate are the work of childhood friends modeled after artists like Neil Young and Pink Floyd.

Destructo
Electronic
Destructo has somewhat quietly lived in the cut as a producer, perhaps more better known for his brainchild of HARD Productions, but there's few that can match his sensibilities as a producer in the EDM world.

*Check out the full Electric Forest 2014 mix here.