Electric Forest 2014 Listening Guide Part 4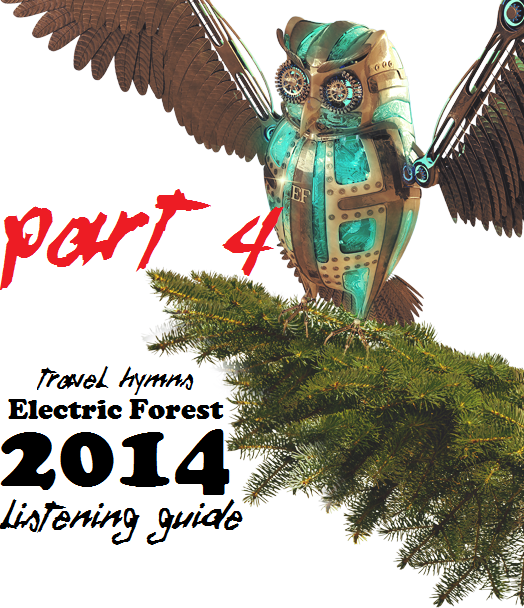 Sister Sparrow & The Dirty Birds
Funk, Soul
A Brooklyn-based eight-piece, they originally broke out in 2012 in part to a relentless touring schedule. They've since enjoyed major billings through Bonnaroo and other fests.

Soul Clap
House, Funk, Electronic
Citing outerspace as their hometown, the spacy Soul Clap consists of Cnynce aka Chaz Shabaz and Elyte aka E-Heavy The Bamboozla. Groove allegiance to the funk.

Soul Visions (members of Rising Appalachia & The Human Experience)
Folk, Electronica
A genre-bending tour de force, the group couples unique vocal harmonies with roots music for an otherwise divergent sound.

St. Lucia
Electronic, Synthpop
South African born Jean-Philip Grobler is St. Lucia, now based out of Brooklyn. This talented producer has come a long way musically from singing in the Drakensberg Boys' Choir in his youth.

Stephen "Ragga" Marley feat. Ghetto Youths Crew
Reggae, Dancehall
A son of legendary Bob Marley, Stephen "Raggamuffin" Marley is a five-time Grammy winner is now forging his own legacy in the realm of reggae.

Steve Angello
House, Progressive, Tech
Greek-Swedish born Steven Angello Josefsson Fragogiannis is most recognized from his work as a member of Swedish House Mafia. Now flying solo and operating his own major label, Angello's reputation far preceeds him.

STS9
EDM
STS9 is a Santa Cruz instrumental collective producing some of the greatest voyages of ambient sound in the EDM world. Almost considered a jam band of the genre, many of their marathon sets span well over two hours.

Syd Arthur
Psych, Rock
A psychedelic outfit out of Canterbury, Syd Arthur has gained critical success through billings like SXSW. They produce a sound difficult to pin down, keeping experimental music fans totally engaged.

T. Hardy Morris
Psych, Grunge
Drawing on a looser sound than his work with Dead Confederate and Diamond Rugs, T. Hardy Morris has crafted a sound sometimes referred to as outlaw country grunge.

The Glitch Mob
Glitch, Electronica, Synthpop
Los Angeles-based Glitch Mob have been making their unique variety of electronic tunes since 2006, making a name for themselves through live performances manned by laptops and MIDI controllers. Their quickly growing fanbase eventually led them to nationwide tours and mainstream success.

The Revivalists
Alternative Rock, Soul
The Revivalists are a septet that began playing in 2007 and immediately forged their sound from the funkier undercurrents of their hometown New Orleans music scene. They draw loose comparisons to bands like The String Cheese Incident.

The String Cheese Incident
Progressive Bluegrass, Country, Neo-Psych
Hailing from Crested Butte and Telluride, Colorado, this six-piece collective began churning out genre-bending tunes in early 1993. Every member of the band is credited with producing original compositions and sharing turns on vocals, creating dynamic live performances.

Thomas Jack
Tropical House
20-year-old Australian-bred Thomas Jack produces some of the most fun electronic tracks in big part to his tropical leans. His sound can easily transport listeners to private island parties and salty summer days with the summer sun high in the sky.

Topher Jones
Progressive House
Based out of the windy city of Chicago, Topher Jones is working diligently to put his city on the map. He's been heavily involved with Ultra, OWSLA, Dim Mak and more in the past.

Trippy Turtle
EDM
Trippy Turtle casts a wide net when it comes to electronic bangers, clear aim to rule the club scene.

Until The Ribbon Breaks
Electronic
Straight out of Cardiff, Pete Lawrie Winfield, aka Until The Ribbon Breaks, is a humble Welshman looking to create a new musical obsession. He weaves his sound with old school influence with other sample heavy influences like Beck.

Wilkinson
Drum and Bass, Dubstep
London's own Mark Wilkinson is a master of the drum & bass genre, claiming the illustrious Hospital Records as home. His affinity for dance music began in his early teens after he traded his guitar for a sequencer.

Xavier Rudd
Indie Folk, Blues, Rock
An Australian singer and songwriter, the multifaceted Xavier Rudd draws upon unexpected influences from microscopic from the mainstream sounds like Hawaiian and Native American.

Zedd
Electro House, Progressive House
German producer Anton Zaslavski has recently discovered major mainstream success since his 2010 remix of Skrillex's 'Scary Monsters and Nice Sprites' gained him immediate recognition. Responsible for producing some of the most instantly recognizable tracks in the electronic world, Zedd has evolved into a powerhouse of raw energy, especially present in his live performances.

Zeds Dead
Bass, Dubstep, Electro House
Based out of Toronto and named for a line from Quentin Tarantino's iconic Pulp Fiction, the team consists of DC and Hooks. They are credited with embracing a distinctly more psychedelic side of dubstep and fusing it with house influences.

Zoogma
Electronic, Glitch Hop
Claiming base to musically significant areas like Nashville and Atlanta, the collective of Zoogma use a broad production pallet that includes genres like Electro-Blues and Glitch Hop.

*Check out the full Electric Forest 2014 mix here.