Electric Forest 2014 Listening Guide Part 3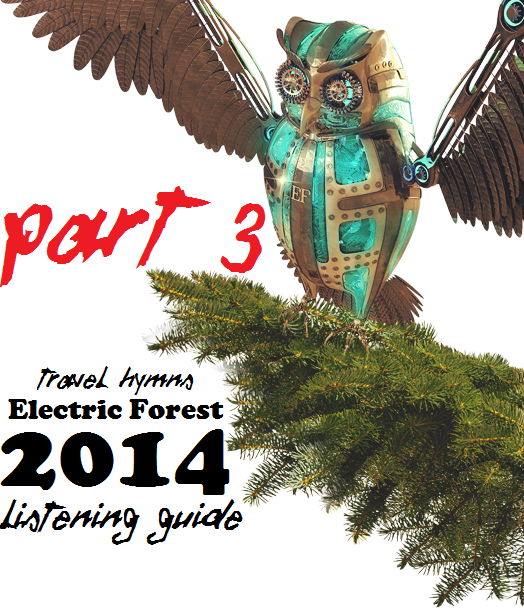 Matt & Kim
Indie Rock, Dance Punk, Lo-Fi
Adorable might not be a word you're used to hearing when it comes to indie rock outfits, but real life lovebirds Matt and Kim pack enough raw and infectious energy any festival crowd can feed off of.

MK
House
Los Angeles' MK, or Marc Kinchen, has been producing since the 90s and is best known for blending boundaries of genres including house and garage.

Moon Boots
House, Funk, Boogie
Finding solace among disco, dance and R&B records of old, Moon Boots has done some incredible remixes for electronic artists including CHRVCHES, Duke Dumont and more.

Moon Taxi
Indie Rock, Progressive, Jam
An American indie-prog outfit out of Tennessee, the band draws quick comparisons to The Wood Brothers, The String Cheese Incident and The Disco Biscuits.

Ms. Lauryn Hill
Soul, R&B, Hip Hop, Reggae Fusion
One of the most soulful and celebrated artists of the early 90s thanks to her work with the Fugees, Lauryn Hill is still highly active among the music festival circuit.

Nahko and Medicine For The People
Acoustic Thump-Hop
Portland's unique thump-hop artists began in 2008 and borrow sounds from Midnite, Erykah Badu, Digable Planets and many other indie artists.

Natasha Kmeto
Vocalist, Electronic, Dance
Portland's own Natasha Kmeto made a habit of turning heads on the dance floor, coalescing her pop sensibilities to expand on genres like R&B. No stranger to big billings, Kmeto has previously played at Coachella, MusicFestNW. SXSW and more.
Papadosio
Progressive Rock, Psychedelic, Folk, EDM
According to the Ohio dance collective, Papadosio is where revolutionary technology meets a revolutionary message — the sound of the information age. Progressive rock is melded into bits of psych, folk, and electronic genres.

Paper Diamond
Electronic, Bass
Colorado's Alex B., known to fans as Paper Diamond, is one of the brightest talents signed to Pretty Lights Music and quickly gaining worldwide attention.

Pegboard Nerds
Electro House, Moombahcore, GlitchHop
This cleverly named Norwegian electro house collective produces sounds exclusively geared toward their self-described genre, 'crazy shit'.

Penguin Prison
Synthpop, Dance-Pop, Indietronica
An electropop project from sole New York multifaceted singer, musician, producer Chris Glover. Glover has received serious critical success since his 2011 signing to Downtown Records.

Perseus
Electronic, Euphoria
Describing himself as a 'baby making record maker', Perseus has collaborated with similarly minded producers like Moon Boots and French Express.

Poolside
Dance, Daytime Disco, Chillwave
Daytime disco might not make sense until you spin Poolside the firs time. Represening the LA chillwave to their full capacity, the duo of Filip Nikolic and Jeffrey Paradise have flown under the dance radar for some time now.

Protohype
Dub Hop
Responsible for much of the dub hop coming out of the west coast, Protohype is an aggressive producer generating manic rave tracks.

RAC
Pop, Island, Tech House
RAC has produced some terrific remixes of some big name pop artists, drifting into some more tropical vibes occasionally reminiscent of Ibiza imports.

Rayland Baxter
Indie Rock, Folk
Described as a gentleman, a picker of strings and a thinker of things, Baxter was born in Tennessee and plays music strung with readily apparent emotion.

Rising Appalachia
World, Folk, Soul
A musical team of siblings comprised by multi-instrumentalist sisters Leah and Chloe Smith, New Orleans' Rising Appalachia makes sweeping world and folk music.

Roadkill Ghost Choir
Folk, Rock
A folk rock group out of Florida, RGC have been turning heads with plucky tracks loaded with soul in the vain of festival mate Rayland Baxter.

Rosin Coven
"Pagan Lounge Music"
A theatrical musical collective out of the Bay Area, Rosin Coven's sound is described as 'dark cabaret', blending elements of jazz, rock and lounge.

Seven Lions
Dubstep, Electro House
Santa Barbara's Jeff Montalvo, known to fans as Seven Lions, derives his producer handle from a fantasy book called Latro In The Mist. He adopts a sound similar to artists like Adevtnure Club and Brass Knuckles.

*Check out the full Electric Forest 2014 mix here.