Electric Forest 2014 Listening Guide Part 2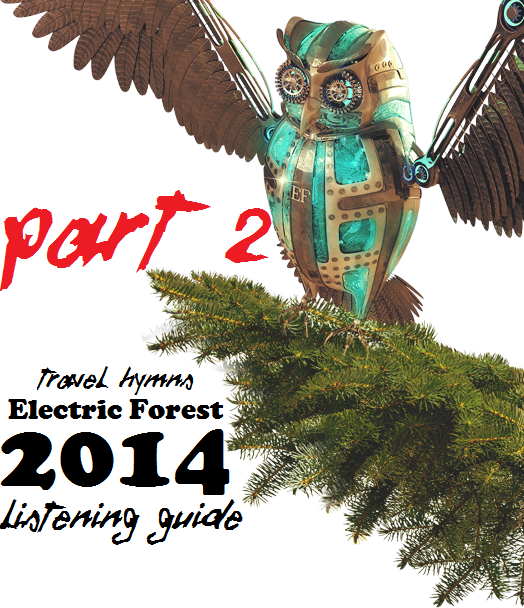 Dirtyphonics
Electro House, Dubstep
A 3-piece French electronic group out of Paris, their wide ranging style touches on genres like Drum and Bass and Drumstep.

Dusky
Electronic, Techno, House
London's Alfie Granger-Howell and Nick Harriman are electronic vagabonds, composing orchestral pieces and jack house, creating electronic music with a rare element of soul.

Emancipator Ensemble
Electronic, Ambient
Portland based producer Doug Appling is Emancipator Ensemble, a fast riser in the EDM world through slick sample selection and frenzied beats.

EOTO
Electronic, Experimental, Dubstep
Boulder's electronic duo EOTO is the impressive product of Michael Travis and Jason Hann. Never using recorded loops or beats in their performances, every show is entirely improvised to deliver a completely unique electronic flavor.

Flying Lotus
Experimental Electronic, IDM
LA's FlyLo is one of our absolute favorite producers, Steven Ellison is a prodigy of remarkable hip hop heavy predecessors like J Dilla. His work is nearly impossible to pin down into any one genre but perhaps somewhat characterized through a penchant for so willingly falling off the rails of convention.

Fury + MC Dino
Drum and Bass
Steve Blakley (DJ Fury), a major figure in Denver's Jungle electronic scene, teamed up with MC Dino to deliver a natural pairing of hip hop tendencies with explosive drum and bass. With MC Dino serving as somewhat a hype man, the duo delivers kinetic live performances.


Golf Clap
Peak Hour Deep House, Lifeguard House, Progressive Rave Garage
Smallscale genre innovators, Golf Clap has risen ranks in large part to the frenzied touring community of DJs. They cite 'Arnold Palmers on a sunny day on the links' as a major influence.

GTA
Electro House
Although Miami's GTA uses 'Death to genres' as a battle cry, they describe their sound carries a heavy hip-hop lean with more tropical influence.

I Am Legion
Hip Hop, Grime
Doug Appling's I Am Legion quickly rose to the top of the Beatport chart, a four-piece musical collective creating large scale visual performances. The group is a powerful display of hip hop's domineering influence in the EDM world.
Special thanks to Reddit user ShivaCobra for the info.
Isaac Tichauer
House
Isaac Tichauer is a talented producer known only to a loyal following for creating rave-centric mixes and steady house sets. There's no denying Electric Forest is a major billing for him.

J. Phlip
Booty Bass, House, Techno
Another talented member of Dirtybirds Records, J. Phlip has been a perpetual tour mate of label head Claude VonStroke. Production built for marathon booty bouncing sets, J. Phlip goes the distance.

Jimmy Edgar
Techno, Funktronica
Bringing pride back to Detroit in the form of EDM is producer Jimmy Edgar, signed to K7 Records. His musical style draws from unique to EDM genres like jazz, street beat and R&B.

Jonas Rathsman
House
Swedish house music is in capable hands with producers like Rathsman, drawing instant comparisons among the genre's best like Disclosure, Duke Dumont and more.

Justin Martin
Electronic, House, Dance
The Bay Area's Justin Martin is yet another heavy hitter off Dirtybird Records, often mentioned in the same breath as label mate Claude VonStroke for his similar capabilities behind the decks. Martin occasionally drifts into rawer sounds, a quality that makes for memorable full sets.

K Theory
Electronic, Acid House
San Francisco's three-piece electronic collective heavily lean toward genres like Acid and explore fringe genres like Hip Hop with remixes like OutKast's 'Hey Ya'.

Kevin Sauderson
Detroit Techno, Acid House
49-years-young Brooklyn-bred Kevin maurice Saunderson is considered a pioneer of techno, credited with fostering a niche genre of Detroit techno characterized by techno recordings from Detroit producers in the 1980s + 90s.

Kygo
Chillout, Deep House, Disco
This talented Norwegian producer largely deals with spacier sounds bordering on pop, fusing flashy disco glam with ambient chillout vibes.

Lee Burridge
EDM, Acid House, Minimal Techno
A legend in his own right, London's own Burridge is credited with playing an instrumental roll in breathing life into Hong Kong's underground club scene during the early 1990's. Present day, Burridge is a nomadic nightclub DJ.

Lindsay Lowend
EDM
One of the more aptly named producers on the 2014 billing, Lindsay Lowend is one of the smaller artists looking to prove something on the biggest stage yet.

Luminox
Trap, Electronic
Phoenix's Twonkstyled Luminox wields an eclectic sound influenced by artists like Pharrell, Kraftwerk, Timbaland and classic artists of the 1960's.

*Check out the full Electric Forest 2014 mix here.