Two major music festivals, Coachella in California and Governors Ball in New York, have announced their lineups for this year. Both have a wide range of acts and music fans should be able to enjoy themselves at either festival. However, if you're torn between which festival to attend, this guide will give you a definitive comparison of both lineups to help you make your decision.
If you like bigger headliners…
Go to Coachella. Note: "bigger" isn't a matter of quality but of popularity. The headliners at Coachella this year are Radiohead, Beyonce and Kendrick Lamar. At Governors Ball, the top-billed acts are Tool, Chance the Rapper, Phoenix and Childish Gambino. This is no slight against the acts at Governors Ball, but the headliners at Coachella are all music industry A-listers. Plus, they're all coming off of acclaimed releases from 2016.
If you like female pop artists…
Go to either. Both Coachella and Governors Ball did a good of curating the lineup with some of the best female pop artists, with both landing Lorde, Tove Lo and Banks. We might give a slight edge to Governors Ball since they'll have Charli XCX performing.
If you like goofy guys named Mac…
Go to Coachella, where rapper Mac Miller and singer-songwriter Mac DeMarco will both be appearing on Friday. We're not saying a collaboration is a certainty, but how much fun would it be to potentially catch a "Mac DeMiller" set?
If you like relaxing jams…
Go to Governors Ball. The likes of Beach House, Warpaint and Air are guaranteed to not spark any mosh pits or shoving. What they will provide are soothing and mesmerizing melodies that will match perfectly with a glowing sun in the sky.
If you like bearded folk singers…
Go to Coachella, where Father John Misty and Bon Iver will be performing. Father John Misty is coming off strong after his last album, 2015's I Love You, Honeybear. Bon Iver's latest album, 22, A Million came out last year after years of fervent anticipation and received wide acclaim plus lots of notice for its left-field folktronica sound.
If you like billings that make you go "wait, what?"…
Go to Governors Ball. Okay, if we're being honest, there's only one that really stands out. It's "Mark Ronson vs. Kevin Parker." No, the superstar producer and the Tame Impala frontman aren't engaging in fisticuffs, but rather "dueling DJ sets." It's not the first time they've done this, but we can bet on some fun unpredictability.
How do these lineups stack up compared to past years?
Music is subjective, so there's no lineup that can be proven to be better or worse than another. That said, Coachella definitely stepped up their game compared to last year when the final headliner was Calvin Harris. Governors Ball last year had Kanye West, the Strokes and Beck, which is very impressive as well. Perhaps most interestingly is how the last two years of Coachella had two major classic rock bands, Guns N' Roses in 2016 and AC/DC in 2015. Maybe if you have a classic rock itch, you're disappointed by the lineups this year. Hey, maybe the Rolling Stones will headline next year.
Coachella Lineup: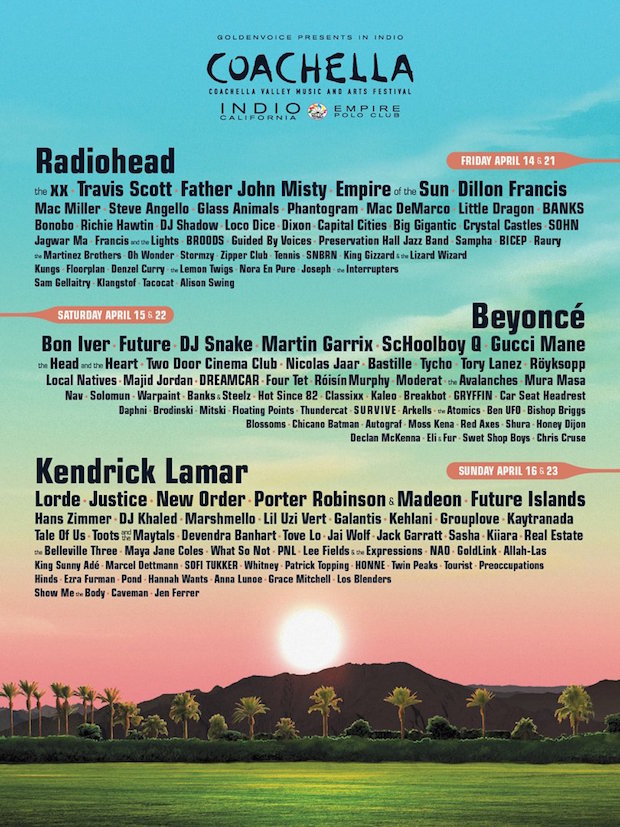 Governors Ball: