It was Austinstock out there, at this years Austin City Limits 2014. The mud was epic, and kinda stinky too (I don't want to know why). Good thing the music was the distraction. CC and I ran around like hooligans from stage to stage, weaseling up through the crowd to see our music festival favorites—Pearl Jam, Eminem, and Calvin Harris. CC is so short she typically ends up staring at some dude's sweaty back, and we just weren't having it for a few of the biggies.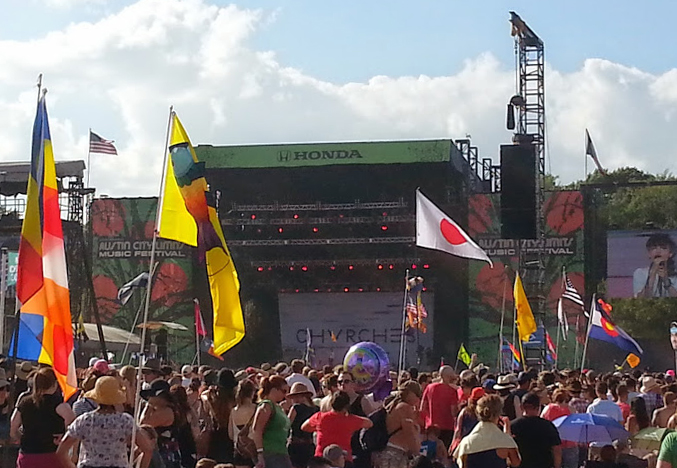 Paolo Nutini is such a hot Scottish morsel. He played mid-day in the hot and heavy weather and it totally vibed our groove with his sweet, sweet playing. His song 'Scream (Funk My Life Up)' got everyone grooving, and 'Jenny Don't Be Hasty' is my personal (albeit obvious) favorite. CC and I had a hard time moving between stages. By Saturday afternoon the place was a muddy zoo. That's okay though, once the music started we didn't even notice.

Belle and Sebastian were not as "on" as they were at the Orpheum the week before, but their smooth sound was great for a rest under a tree. We found a pod of people setting up camp under a tall oak and joined them at their invitation. Cool cats. Mostly from Austin, but a few Back Easterners too. We chilled out Austin-style and did our best not to get trampled as the crowds moved about.
Austin City Limits is one of those music festivals you just have to go to. I think the population count was up around 75,000 people, which is nowhere near the epic crowds at Coachella, which made us sometimes wonder why we were there. Over all, and aside from the yuck mud, Austin City Limits this year was a blast. From Beck to Outkast, Broken Bells to Jenny Lewis they delivered another winner of a festival.

CC and I returned home to toss all our clothes in the can. The Wellies were the gear pick of the festival and I am real happy with the shopping we got in while in the city. My only bummer from the weekend was losing an earring while making out with a totally hot festivarian on Saturday night, but if there are sacrifices to be made I am happy to oblige.