Arcade Fire will be attending Coachella 2014.
Having just announced a North American tour with dates suspiciously absent during the month of April, Arcade Fire is now considered a lock for the festival. The only question remaining is whether the Grammy award winning artists will be billed as an actual headliner.
Arcade Fire last headlined the Coachella Valley Music and Arts Festival in 2011, delivering an experience no one in the audience should ever forget. How could they possibly top one of the greatest shows in the festival's modest history? That's easy: bringing along David Bowie.
This isn't your standard Daft Punk at Coachella rumor — this one actually has some legs. Let's examine some evidence.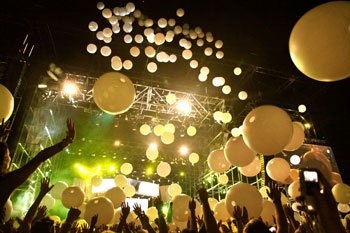 How likely is it that we see Ziggy Stardust grace the stage in 2014?  The band has a penchant for doing things well over the top — flashback to the ball drop of 2011 — and a cameo appearance by Bowie would be well within character. Bowie was also heavily involved in the production of Arcade Fire's latest album, Reflektor. The evidence is certainly convincing.
Don't hold your breath for Bowie to be listed as a headlining act for Coachella 2014. Bowie stopped touring altogether following a heart attack he experienced on stage. Despite having released an album this year, The Next Day, health concerns have stunted the possibility of a long awaited tour and compromise Bowie's ability to headline Coachella. Joining Arcade Fire for one night in April is however, by most accounts, entirely feasible.
The somewhat unofficial news that Arcade Fire will be performing is a big selling point for this next installment of Coachella. With only months to go before an official lineup is leaked, we fully expect other big names to begin slipping through the pipes.