With its stunning coastline, waterfalls, retreats, and coral reef, Bali is indeed a destination of leisure and peace, and simultaneously, an island for the explorers. A province of Indonesia, Bali is the best place for any tourist who needs a week of absolute scenic beauty, relaxation, and fragrant cuisine. Coming from a busy city like Delhi, Bali promises a serene and rejuvenating vacation. Get your Delhi to Bali flights booking sorted in advance and experience all the amazingness yourself.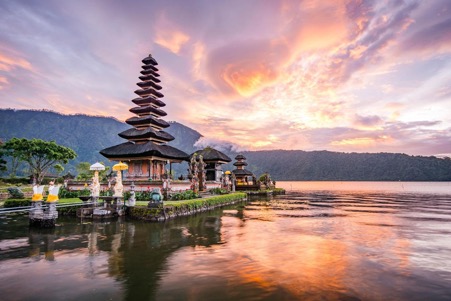 Bali, the land of calm exploration, is filled with many breathtaking places to visit such as picturesque mountains, forests, beaches, and old temples with beautiful remnants of ancient architecture. Apart from various retreat centres, the island also offers a beautiful landscape to look at.
Here is a list of seven most breathtaking places to visit in Bali:
Gitgit Waterfall
This waterfall is considered to be one of the most picturesque waterfalls in Bali. It's the best place to start a day for the nature lovers. It's also a favourite spot for the adventure lovers as it is a suitable spot for trekking as well. However, the trek can be challenging towards the waterfall, where it is surrounded by trees and rocks. But the trek is entirely worth it in the end as the waterfall has a sight to behold.
Bali Bird and Reptile Park
The Bali Bird and Reptile Park offer an immensely fun-filled outing for the tourists who are fond of animals. This park will leave any of you speechless as it houses around 1000 birds, along with 250 different species of reptiles. The park is a must-visit spot for all those of you who want to get really close to nature. You can get yourself clicked with large and brightly marked toucans. Furthermore, there are also many dining and shopping facilities available here.
Temples
Bali has a surprising number of predominantly Hindu temples, most prominent of which are the nine directional temples situated strategically across the island. According to the popular Balinese mythology, these temples protect the islanders from all kinds of evil spirits. Each of these temples is constructed differently and have unique designs. Their exclusive designs of the temples accommodate the local geography. The most popular and accessible temples are Uluwatu Temple or the Pura Luhur Uluwatu in southern Bali, and the Tanah Lot temple.
Mount Agung
This mountain is home to scenic views at dawn and is perfect for some beautiful photography. Bali's spiritual centre, Mount Agung is the highest mountain in the area. The is an admired mountain of Bali, whose summit is shrouded in clouds and mist, and is a delight to any rock climber or trekker.
Dolphin Watching
To watch dolphins frolicking about in the waves is a must-see activity for any tourist visiting Bali. Various franchises and cruises offer an optimum view of dolphins. However, they are best seen in motorboats with local boatmen, early morning at the Lovina beach.
Hot Springs
Hot springs not only do wonder for the body but are also a treat to the eyes. You can visit one of the amazing hot springs in Bali to unwind after a tiring and hectic day. Tabana and Toya Devasya are home to the most luxurious and relaxing hot springs in Bali
Mount Batur
This exciting destination is an active volcano offering tourists with the promise of beauty and adventure. This place is a famous sunrise trek where you can scour the hill all the way to its highest point and get pleased by a magical sunset. You can also visit the amazing coffee plantations on your way back. Mount Batur trek is an outstanding example of Bali's natural beauty set amongst the clouds.
So, if you want to visit these breathtaking places in Bali to unwind from usual dull routine in Delhi, then get your Delhi to Bali flights bookings sorted as soon as possible.