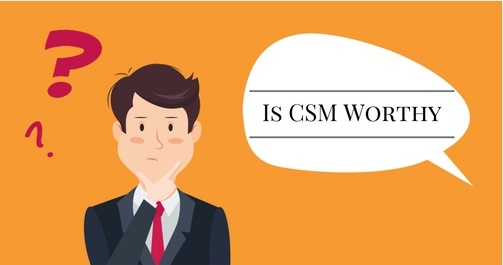 We are on a constant journey to learn. It begins from school and continues even after getting a job. Unlike the knowledge you gained from school, the knowledge you acquire at your job has an immense impact on your career and performance. While most of the learning is done on the job, it also becomes necessary to take courses that can help you in your professional life. 
One of the most important of those courses is the Certified Scrum Master Training. But why this course specifically? For starters, Scrum is employed by companies to improve their productivity and become more innovative. Scrum methodologies are being implemented not just in the IT sector, but also in the non-software firms. Certified Scrum Masters are the need of the hour. You can utilise this demand to further your career.
How Does CSM Certification Help Your Career?
CSM certification is a valuable addition to your resume. Not only does it help your professional life, but it also benefits your organisation. Companies have been organising for their employees to get Certified Scrum Master training. This alone should tell you how valuable the certification is from the standpoint of the organisation. Still not convinced? Consider the benefits mentioned below:
Improve Collaboration Within the Team
One of the guiding principles of Scrum methodology is improving the collaboration within the team. You foster an environment where every team member feels motivated to work towards the end result.
Improve Project Delivery Time and Efficiency
Scrum incorporates customer feedback at every stage of the project. This increases the transparency about the status of the project. Even the team members gain better insights into the client's vision. With this, the developers become more efficient. They can deliver exactly what the client wants. Any misunderstandings or miscommunication about the project requirements gets sorted out at every stage. There is no room for error at a later stage.
Improve Your Career Options
A Scrum certification has immense value in the job market. It shows the employer or the organisation that you are willing to put in the effort to improve your skills. It shows that you can take charge of a project and guide it well. Even if you have worked in a Scrum team, a certification is the best way to tell a potential employer that you are aware of all Scrum principles and can implement them successfully.
Get More Projects
When a customer is deciding among different companies, having certified Scrum Masters on the teams becomes a plus point for the firm. Scrum is all about continuous testing and development while also considering the feedback from the client at each stage. Teams that use Scrum principles produce excellent quality products. Improved product quality and shorter delivery cycles are what every client wants. When a client sees that the team follows the Scrum principles, they are more likely to award the project to your team.
Become a Part of the Scrum Community
When you become a Scrum Master, you also join the Scrum community. You get to learn from the experiences of other Scrum masters and experts. The Scrum community is very active, and they are always eager to help others. There is much more to Scrum than just classroom concepts. You learn more by practice. When community members share their experiences, it becomes a part of your ongoing education in Scrum. At the same time, if you are ever in a dilemma about a situation, you can seek help from the community.
Get Your Certified Scrum Master Training From the Best!
A CSM certification is the first step in your Scrum journey. You can then choose to become a Certified Scrum Product Owner or a Certified Scrum Developer. Each of these will further increase your employability and pay package. Becoming a Scrum Master is just the beginning. And yet, even this position fetches a salary of around USD 120,000. Imagine the possibilities in your future if you continue on the Scrum path.

Getting a CSM certification has many benefits. But getting these benefits is easy. All it takes is a 2-day course! A 2-day course taken by experienced Scrum professionals teaches you everything you need to know to become a successful Scrum master. You can then use this knowledge to clear the certification exam. When you clear the exam, you will receive a license agreement that gives you a 2-year membership to the Scrum community. Once this time period is up, you only need to renew the agreement to continue being a Scrum Master.
A Scrum certification is the best thing you can do for your career. And it all starts with a 2-day course. Register today and watch your future become brighter and brighter.