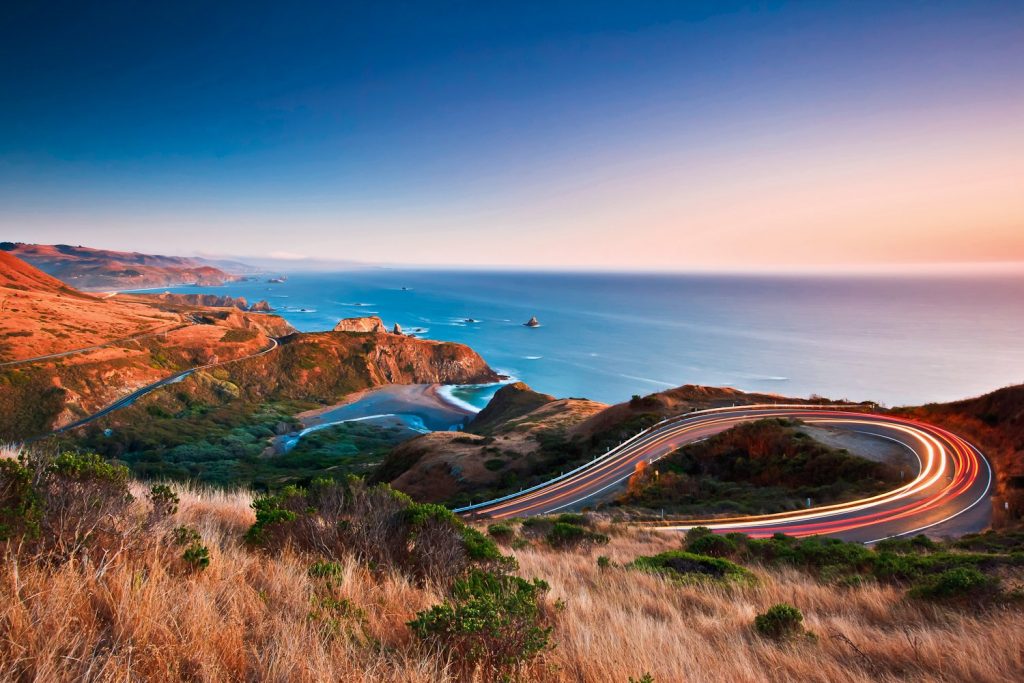 If you are going a little crazy in self-isolation, why not start planning your next trip? We have three epic USA road trips that will make the perfect vacation when restrictions ease.
Start: Los Angeles, California
End: San Francisco, California

Things to see
A must-stop when you are heading in to or out of Los Angeles, the infamous Santa Monica Pier offers a buzzing atmosphere and picturesque views of the coast.

Hearst Castle was built in 1901 and will transform you back in time. It is a popular stop for those cruising up the coast and will add some old-school glamour to your trip.

No visit to San Francisco is complete with a trip to the Golden Gate Bridge. Take a walk across one of the most famous bridges in the world and admire the view.
Other Considerations
The California Coast is a popular road trip destination and we recommend booking ahead if you are traveling during peak time. Ideally, you will allocate a minimum of 5 days to travel between Los Angeles and San Francisco as this will allow you to explore all the great attractions. Remember to add on extra time each end to experience the cities as they require their own dedicated time, even if you are lonely planning on seeing the biggest tourist attractions.
Start: Chicago, Illinois
End: Los Angeles, California
Things to see
Route 66 Hall of Fame Museum
Learn all about Route 66 and its history at the Hall of Fame Museum. Make sure to get a photo of the iconic mural!

An unconventional attraction but a popular stop nonetheless, the blue whale is a large model whale situated in a pond. It makes the perfect place to have a picnic and stretch your legs.

This gas-station turned souvenir shop is an excellent place to pick up something to remember your epic road trip.
Other considerations

To road trip the entirety of Route 66 from start to finish, you will need a minimum of two weeks. It is typically agreed that a month is a much better timeframe and will allow you to make more stops and see more along the way. If you are short on time, we recommend selecting a portion of Route 66 and then flying back to your original destination.

Route 66 is extremely popular with international travellers, with people coming from all over the world to cruise across the country on this famous road. If you are planning to visit the USA from another country after the pandemic, there's a couple of important things you need to consider.

Firstly, you need to make sure that you meet all the entry requirements. The last thing you want is to arrive at the airport only to realize you do not have the right visa! For travellers who are residents of countries belonging to the Visa Waiver Program, the requirement is an esta application usa. The entire application can be complete online, even the fee payment. It is recommended that you submit your application well before your travel dates to make sure there are no issues, although it can be completed up to two weeks before your trip.

If you do not reside in one of the Visa Waiver Program countries, we recommend doing your research so that you understand the entry requirements attached to your passport. In fact, it is a good idea for all travellers to keep up to date with the latest entry requirements given the pandemic as this may cause things to change.

The other thing you should check is U.S. Coronavirus Cases by States. This way, you will understand which areas are badly affected and can make informed decisions about your travel plans. The USA is a huge country and just because one state has a high number of corona cases does not mean that other states do. Each state will have their own restrictions and guidelines based on the severity of their situation.

Check reputable sources regularly to keep across the latest information and make sure that your vaccinations are up to date before you travel. There are no vaccinations required to enter the USA, however you should always get your flu shot and make sure your standard vaccinations are up to date before traveling. As well don't forget to check my esta right before your journey.

Start: Minneapolis, Minnesota
End: New Orleans, Louisiana

Things to see
For stunning views of the Mississippi, head to this park. There are also plenty of options for hiking and camping.

This long bridge crosses the Mississippi River and is well known for its unique bend in the centre.

One of the most popular stops on The Great River Road, Fort Snelling is worth a visit. It was built in the 1820s and will provide insight into the history of the military.
Other Considerations
The entire Great River Road takes about 36 hours to complete if you were to travel non-stop. We recommend giving yourself at least 10 days for the route so that you are not stuck in the car for too long each day.

With so much to see, it is best to plan before you leave on your road trip so that you have an idea of the things you do not want to miss. It will not be possible to see everything, so you will have to prioritize.
The USA is one of the best places to go on a road trip and after all the self-isolation, we are sure you will be ready to hit the road as soon as you can!