The good times keep on comin'. This year's two-day party on the Santa Monica Pier brought out some of the best music I've seen at a festival in a while. The Way Over Yonder Festival may sound like a bunch of hillbillies sitting on a porch playing banjo and drinking rye out of a mason jar, but in fact it is a stellar line-up of rockin' professionals.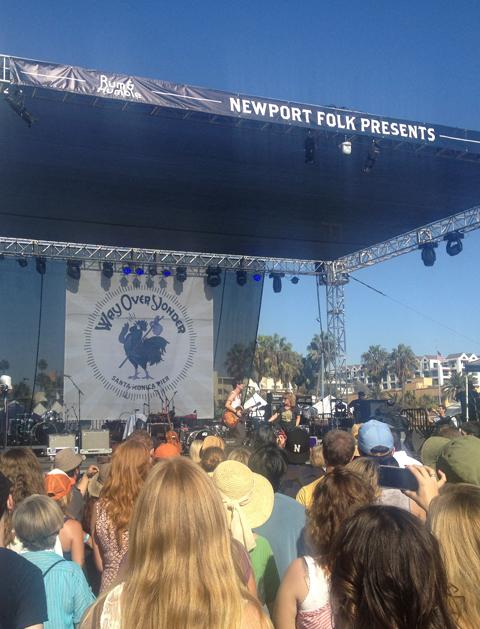 Jackson Brown, Chris Robinson, and Lucinda Williams were the big draws. Heartless Bastards brought down the house (or the dock as it were) as usual. We were psyched to see Nathaniel Rateliff. He is one weird awesome dude. The weather was hotter than last year, but we drank enough beer to keep us cool.
CC and I discovered this festival last year while on our way to see Maroon 5 at the Hollywood Bowl (Yeah, baby!). We figured since no music festival is a bad music festival, we would check it out. CC isn't much of a roots/folk/backwoods music fan, but I am. Give me some old Florida swamp blues and a can of PBR (before it became the Yuppie rage) and I am in heaven. Just in case you are wondering what "Newport" is doing on the Santa Monica Pier, here's the scoop…
The Newport Folk Festival was founded in 1959 in Newport, Rhode Island by famed festival producer George Wein. The Festival became renowned for introducing a number of performers who went on to become major stars, most notably Joan Baez and Bob Dylan. Today, under the co-leadership of producer Jay Sweet, the Newport Folk Festival stretches the boundaries of what folk music is, with appearances by artists as diverse as My Morning Jacket, Alabama Shakes and Beck in addition to singer-songwriters such as Jackson Browne, Conor Oberst and Arlo Guthrie. Way Over Yonder continues in that great tradition -and that of the itinerant American musician- as Newport Folk makes its way west to the shores of the Pacific.