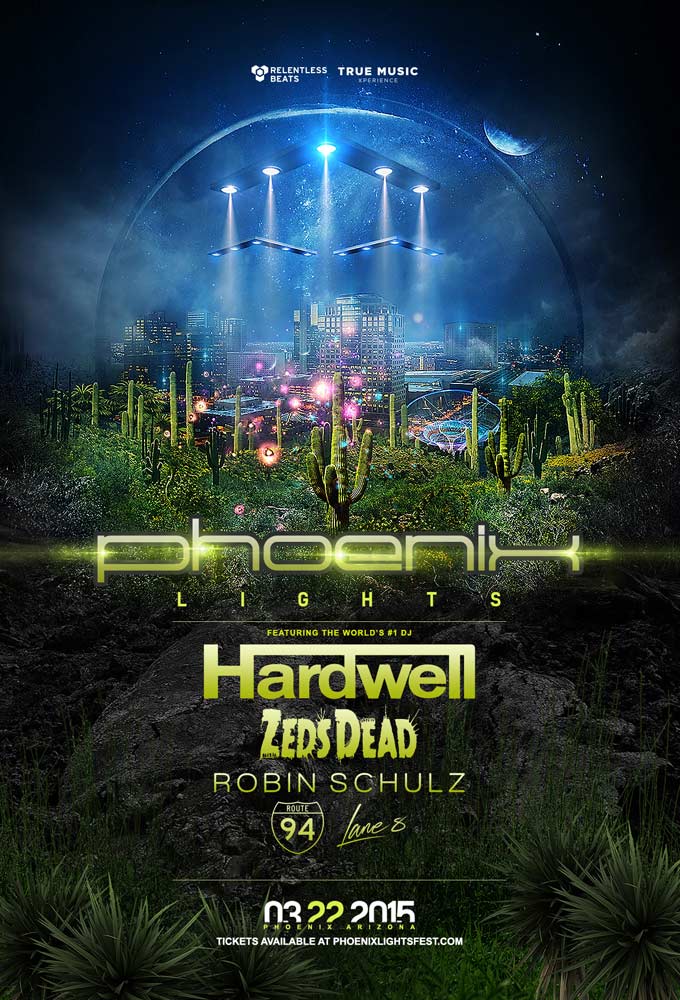 It's finally upon on! Hardwell, Zeds Dead, and a host of other top DJ's from around the world descend on Downtown Phoenix to light up the night.  With its hard hitting and diverse lineup Phoenix Lights is a must attend event for every EDM fan in the valley. This coupled with the amazing location right in the heart of downtown at the Civic Space Park, it is shaping up to be a day and night of music that will be truly unforgettable.
Phoenix Lights Festival Featuring:
Hardwell, Zeds Dead, Robin Schulz, Route94, Kill Frenzy, Lane 8, and SecondCity
When: March 22,2015 (2:00pm-10:30pm)
Where: Civic Space Park in Downtown Phoenix
*Tickets and VIP Table packages are still available so make sure to grab those up while you still can.
Big thanks to the guys at True Music Xperience for putting this first of its kind event in Phoenix. We're wishing you all the best as we very much hope this become an annual thing. Look forward to seeing you all there! Don't forget the Zeds Dead Afterparty that is going to be EXCLUSIVELY for Phoenix Lights ticket holders at the Monarch Theater.
Where to buy tickets
Buy tickets at phoenixlightsfest.com. You can also buy tickets at the following Zia Record locations:
Zia Records – Tempe
3201 S Mill Ave (NE Corner)
Tempe, AZ 85282
(480) 829-1967
Mon-Sun: 10AM-Midnight
Zia Records – Camelback
1850 W Camelback Rd
Phoenix, AZ 85015
(602) 241-0313
Mon-Sat: 10AM-11PM
Sun: 10AM-10PM
Zia Records – Chandler
3029 N Alma School Rd
Chandler, AZ 85224
(480) 857-4942
Sun-Thurs: 10AM-10PM
Fri-Sat: 10AM-11PM
Zia Records – Thunderbird
2510 W Thunderbird Rd
Phoenix, AZ 85023
(602) 866-7867
Mon-Sun: 10AM – Midnight