Planning any vacation can be stressful. But when you add a few more people into the mix, it can become an incredibly demanding task.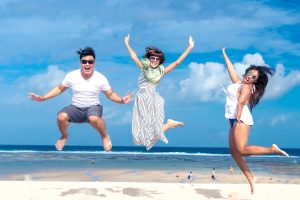 However, it needn't be that way. After all, this is your vacation too, and you shouldn't come back from this vacation needing another one. With a few simple tips, you can plan a stress-free break that'll cater for the entire group's needs, no matter how specific they may be.
Here's how:
Choose a Group Leader
When planning a group trip, the first thing you should do is appoint someone as your "group travel leader." This person won't just plan the vacation but they'll also be the first point of contact for everyone else, making sure everyone's up to date with the plans, has all the right travel documents, and has got all the necessary vaccinations (if required).
Book Your Flights
Before you book your accommodation or any activities, it's a good idea to get the flights booked. Not only does this make sure everyone's committed to the trip, but it also gives you the dates of your vacation so you can start planning everything else. Furthermore, if you book your flights in advance, you're more likely to get seats together and cheaper fares. Don't forget to look out for group airfare rates, too. Some airlines will offer you discounted rates when booking tickets for a number of travelers (normally 10 or more).
Find Your Accommodation
When you're traveling as a group you'll need to pay special consideration to the accommodation you're staying in. If there's only a few of you or you're traveling from destination to destination, hotels like Falls Church Marriott Fairview Park may be suitable, providing you with separate rooms and facilities you can all enjoy without being on top of each other.
However, for larger groups, you may want to choose condos or homes that have multiple rooms. This won't just provide you with the space you need but will offer a great base for you all to explore the destination from, whether this is together or as a group. Or you a few of you could get an RV rental to really get the traveling experience!
Download a Messaging App
Before you embark on your trip make sure it's easy for you all to communicate with one another by downloading the same messaging app. This will help you coordinate your plans but it's also great for using while you're away. For example, if you do go off in separate groups to do different activities you can stay in touch so those back at the condo/hotel know when to arrange dinner. Apps like WhatsApp are great as they only use Wi-Fi so you won't incur any hefty data roaming charges.
Reserve Restaurants Before You Get There
If you're planning on eating out while you're on your vacation, it's a good idea to book restaurants in advance, especially if you're a large group. Restaurants often need forewarning if a large group is going to be dining with them, so ring ahead of time to see if they'll be able to seat you all at once.
By planning as much as possible before you go it'll ensure there aren't any hiccups while you're away. Plus, it's great to make sure everyone's involved in the entire planning process so no one feels as though they've been left out or haven't been considered in the