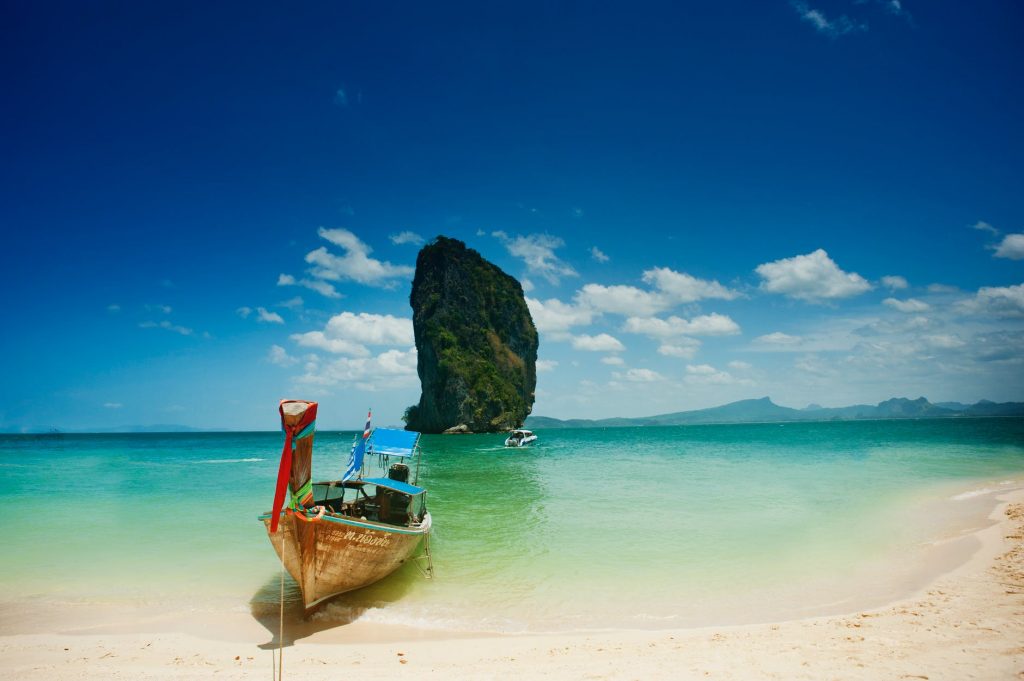 Thailand is a southeastern Asian country that is home to tropical beaches, royal palaces, and ancient ruins. Once you can freely travel again, you must put island hopping in Thailand on your bucket list!
Phuket
One of the most famous islands is Phuket. The rainforest-like and mountainesque
island has over 30 beaches and some hidden gems.
The waters are clear, the sand is white, and there are palm trees all around. The resort town caters to tourists by offering a number of different seaside resorts, markets, bars, and restaurants.
There is plenty to do in Phuket, including seeing the Big Buddha, which is a giant Buddha monument that is exquisite. Also, while you are out and about, stop by some of their extraordinary temples. And in the evening, make sure to check out the night markets, they are fun and spectacular. Once you have finished roaming Phucket, the island is close by to other tropical islands!
If you are looking for a trip for a lifetime, book your tickets for Phuket here.
Phang Nga Bay
If you are looking for adventure, head to Phang Nga Bay. The island is known for its rock formations and limestone cliffs.
Surrounded by forests and little islands, there is much to venture out and see on this island.
The area has been featured in James Bonds movies and is home to caves, lagoons, and the waters are covered in gorgeous coral reefs.
Make sure you take the time to find the perfect spot to watch their famous sunsets, making for the perfect photo-op.
Similan Islands
Clear blue waters lead to limestone island that is covered in a thick forest.
The Similan Islands is home to large trees, bamboo, huge boulders, and island animals such as lizards and monkeys.
One of the most famous things about these islands is their coral sand beaches. This is a great place to relax and enjoy some beautiful tropical scenery.
If you are looking to explore beneath the waters, this is the place to do it. It really has become a hot spot for divers because of its diverse and breathtaking scenes under the water.
So, the next time you are planning an international trip, make sure to consider hopping the gorgeous islands of Thailand.