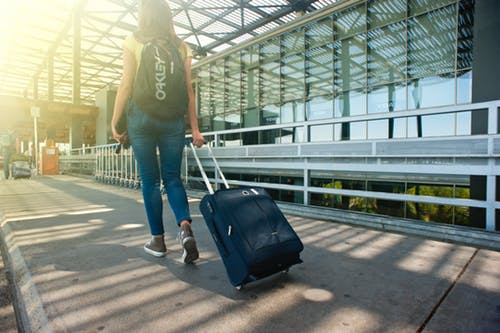 To be late at the airport – this is one of the nightmares we don't want to experience. This could mean having to rebook another flight, which is sure to be costly. To spare yourself from this headache, keep on reading and we'll share some tips on how you can never be late for your scheduled flight. 

Book Your Parking in Advance 
This is one of the obvious ways to be on time for your flight. Nowadays, LAX parking does not need to be a headache. You don't need to be helplessly looking for a vacant spot once you get to the airport. Before you leave home, you can go online and book a parking spot. When you get to the airport, all that you have to do is to look for the assigned parking space.

If you are looking for the best place where you can book airport parking, make sure to visit ParkON.com.

Research About the Airport 
The more you know about the airport, the lesser is the likelihood that you will get lost and be late for your flight. For instance, research the proximity of the parking to the terminal so that you can plan accordingly. Know where the check-in counters and boarding gates are. It is also good to know the location of the restaurants if you want to have the time to eat without being too far from your boarding gate.

If you are going to LAX anytime soon, we'll make your research easier. Below is an infographic of the facilities and amenities available at the airport.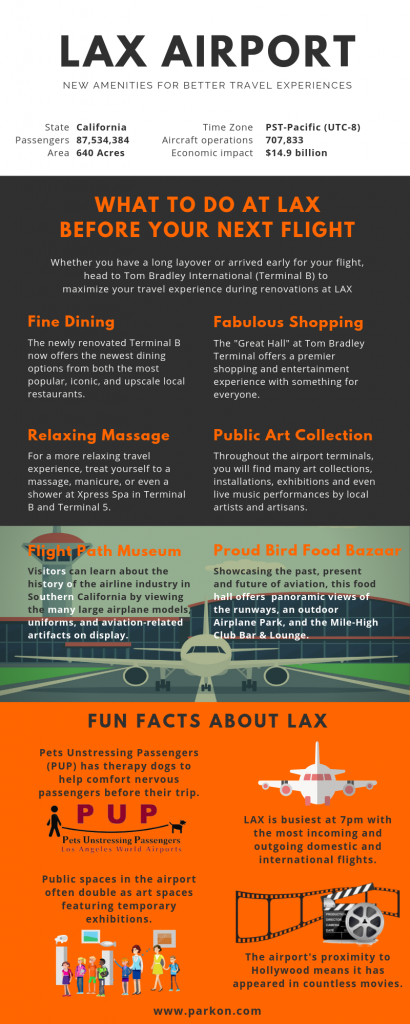 The TSA Pre-Check is one of the most convenient programs for travelers. It can be expensive for most people, but the long-term benefits will surely be worth it. This saves time and makes your travel stress-free. With membership, you can speed your way through security. This also means that you don't need to take off your shoes and laptops, among others. Take note, however, that this is available only in selected airports.

One of the things that can make you late for your flight is the security check. To make things smooth-sailing, learn the art of packing light, especially for your carry-on. This way, it will be easier to go through the security check. Make sure as well that you do not have any prohibited items in your bag,

At least a day before your flight, check your travel itinerary. Look at the ticket and see the important details about your flight, including the date, time, airport, terminal, and airline, among others. This will prevent confusion and misunderstanding on the day of the flight.

Do not be one of those people who show up at the airport late and rant about not catching their flight. Take note of our recommendations above, and there is a lesser likelihood that you will not make it to your flight.