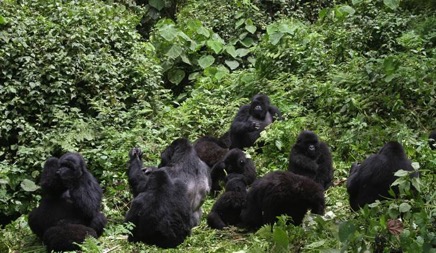 Think it's very right to say that no other wildlife experience comes close to a mountain gorilla encounter, the authenticity it offers will never be equaled in the whole world. Probably this is why most gorilla trekking safaris seem to be more expensive than other African trips.
Despite gorilla trekking being such a trending activity in Africa, only three countries of Rwanda, Uganda and D. R. Congo offer mountain gorilla trekking experiences at 1500 USD, 600 USD and 400 USD respectively.
Visitors that have never encountered with these great apes might think that gorilla trekking in Uganda is expensive, but those that have seen them actually revisit them for the second and probably the third time because they simply call it a life changing experience.
All the discomforts of the long steep hikes in the jungle and efforts invested to see the gorillas, are worth the truckloads of cash paid for a one hour encounter with the mountain gorillas in Bwindi impenetrable national park in Uganda.
Yes, gorilla trekking in Bwindi is the most expensive tourist activity in Uganda, but the 600 USD paid cater for a lot of things. It funds the conservation and protection projects for the gorillas in and around the park. Still the profits from the gorilla permits are used to pay the park rangers, the gorilla research and monitoring team as well as any other development projects in the park.
Still, 20% of the profits from the gorilla permit fees is given back to the local community for its empowerment. This implies that local people are educated to see the benefits of protecting the gorillas through school built with that money and also the connecting routes to the park are constructed still with that same money.
The one hour spent with the mountain gorillas in their natural habitants with in Bwindi National Park, is very magical, memorable and one in a life time experience. Nowhere else can you find the mountain gorillas of Bwindi, not in any zoo in the world simply because they cannot survive anywhere in captivity. So for any gorilla lover, he/she can only visit them in their natural habitats of Africa. And the time spent with the gorillas is limited to one hour for the well-being of the gorillas, to minimize disturbances and risks of contracting human infections like cold and flu.
The 600 USD paid to trek the gorillas in Bwindi is refundable in case the trekker falls sick. The rules and regulations clearly state that no sick person is allowed to trek the gorillas as they are very susceptible to human diseases. So just in case one falls sick before the trek, the permits are resold and the money is refunded.
Bwindi impenetrable rainforest is an incredibly beautiful ancient forest and treks to and from where the specific gorilla families are located simply offer unique experiences that create lifelong memories. Spending over five to six hours, and sometimes even a day in the forest just looking for the gentle apes is not as simple as it sounds. And yes, the walks can be hectic but no complaints about the experience of encountering with the mighty silverbacks of Bwindi.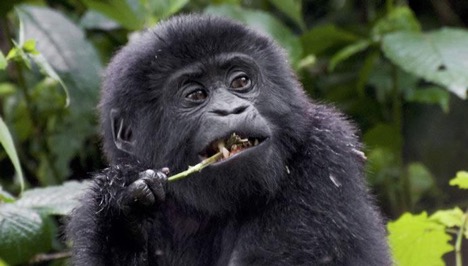 Even if some travelers find gorilla trekking in Bwindi expensive, still some others feel that a Uganda safari is incomplete if it does not include mountain gorillas. In the end, the great travelers look at the upclose encounters with the mighty gorillas in Bwindi other than the price, because the truckloads of cash can perish, but memories can never be left behind. Indeed, gorilla trekking in Bwindi national park is worth the price.
How Gorilla Tourism Benefits Local Communities ?
Gorilla tourism started in 1993 in Buhoma region of Bwindi impenetrable national park. Where gorilla tracking was first established at Buhoma and later was introduced to other sectors, including Nkuringo, Ruhija and Rushaga as well as Mgahinga gorilla national park.
Since then, the number of mountain gorillas has increased steadily. Currently Bwindi impenetrable national Park has over 500 mountain Gorillas with about 16 groups that are well habituated and can be visited any time.
Uganda is the only destination in the entire world that has two sites that offer mountain gorilla safari experience, that is; Bwindi national park and Mgahinga Gorilla national park.
Due to the existence of these critically endangered species, Uganda has since ventured into promoting gorilla tours hence attaining some important benefits for both the economy, conservation and local communities.
Conservation of Mountain Gorillas in Uganda
The most vital benefit of Gorilla tourism has helped in protection of the famous endangered mountain gorillas hence increase in their numbers and increased revenue that is collected through selling the gorilla tracking permits to the visitors by Uganda wildlife Authority.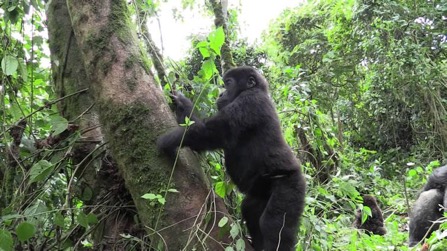 The revenue generated from gorilla tourism is used for safeguarding and maintaining the protected areas not compromising the national park authorities from benefiting from these earnings.
The earnings got from these permits are used for paying park rangers and developing the park community welfare in order to ensure sustainable gorilla tourism. Gorilla tourism is also one of the actors that play a role in creating jobs for citizens of Uganda with opportunities in form of tour operators, tour guides, safari trackers, gorilla lodges, and hotel and restaurant attendants.
Employment & Revenue
Gorilla tourism brought Bwindi Impenetrable national park on to the lime light as one of Africa's best safari destination hence developed in to a major center for employment of the local people. With the positive progress of work at the destinations like Bwindi and Mgahinga national parks, many people have moved to these areas causing a dramatic population increase as well as economic development.
Ecotourism is recognized as the most appropriate form of tourism for these national parks since these two parks were gazetted as conservation areas in 1993.
Currently Bwindi and Mgahinga national parks have become Uganda's "milk pot" generating over half of the revenue for Uganda wildlife authority
Gorilla tourism has been so significant to Uganda's tourism industry since 1993 and has the capacity to generate reliable income for the country. The communities around Bwindi Impenetrable National Park and Mgahinga national park have been employed at the park as porters and park rangers.
The 20% revenue sharing on entry fees to gorilla destinations with the local communities has also helped in putting up local projects like schools, health centers, roads, etc.
The local communities also get 10 US dollar on every gorilla permit that is sold. The Uganda wildlife Authority has also supported in building hospitals, schools and roads in and around the park.
Gorilla tourism generates local earnings and creates local employment opportunities to the natives, for example lodging facilities have been built in Bwindi Impenetrable and Mgahinga National Parks in Uganda, which in turn creates jobs to the community through selling agricultural products and crafts to visitors.
Eradicated poaching activities
Gorilla tourism at Bwindi Impenetrable National Park and Mgahinga national park has helped to eradicate poaching. Poaching in Bwindi national park was mainly by snaring.
Snares in most cases can accidentally trap an untargeted wildlife, and a number of mountain gorillas have fallen victims as well. However, it is well known that no mountain gorilla has ever died out of snaring and all former poachers have been sensitized and are now active agents of conservation.