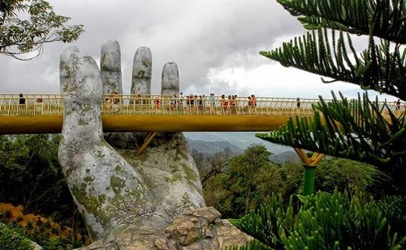 Imitating the image of the "giant hands of Gods, pulling a strip of gold out of the land," said Vu Viet Anh, Design Principal at TA Landscape Architecture.
A  magnificent  bridge  was  inaugurated last  June  in Da Nang,  named  "Golden Bridge" (Cau Vang in Vietnamese).
Overlooking  the  hills  of  Ba  Na  region,  the bridge is located  1,400  meters above the forest of the city of Da Nang. Held  in  the  air  by  two  giant  hands,  it  was  designed  to  give  visitors  the  impression  of walking  on  a  golden  wire.  The  bridge  has become  an  significant  place  for  Vietnamese tours,  offering  breath-taking  views  of  the wooded Ba Na hills.
The  construction  seems  to  defy  the  laws  of gravity.  It  is  therefore  not  surprising  that, according to visitors, the walk gives the feeling of crossing paradise.
HISTORY
Located 20  kilometres  from Danang, Ba Na is a tourist resort that was founded in 1919 by  French  colonists.  Their  old  buildings  fallen into ruins are the only remnants of this period. A century later, the place has become a hotspot for Vietnamese tourism.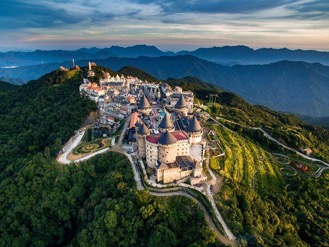 TOURISTIC MOOD
Vietnam's  3rd  largest  city,  Da  Nang, crossed by the Hàn River is located on the edge
of  the  East  Pacific  Ocean.  The  city  offers  the mountainous hinterland an outlet to the sea. Da  Nang  grows  and  grows  again,  with  the ambition  of  becoming  the  Vietnamese  Las Vegas.  On  the  beach  side,  the  promoters  are having  a  blast  to  seduce  the  tourists  fond  of sequins, rhinestones and flashy casinos.
More locals and more Asians, Ba Na is an ideal place for those who prefer to look for fresh air during the hot season. The government in 1986 recognized the site as a nature reserve.  In particular, we can observe black bears and other wildlife flora and fauna.
Ba Na destiny  flourished  after construction of the  cable  car  allowing  tourists  to  climb  the 1400 meters in altitude. The  Golden  Bridge  welcomes  millions  of  visitors  every  year  and  has  become  very popular. This place is an must-see. After visiting this place remark, many choose to go to Hue or Hoi An, two  other unforgettable places.