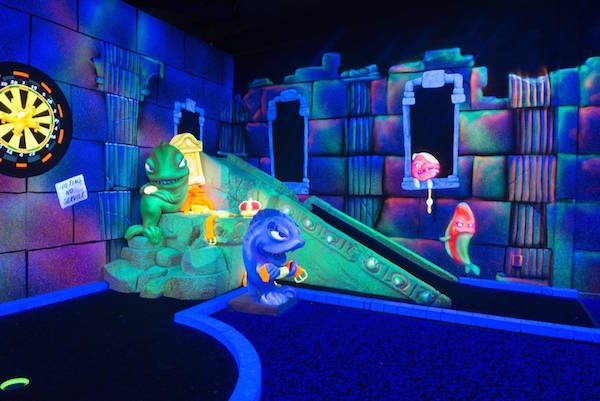 When it comes to mini golf, it's time to ditch the lame windmills and sad little scraps of greenery sitting beside a parking lot and upgrade to the world of unique and inventive mini golf courses. These mini golf courses invest in themes and extravagant designs that will sign you up for a mix of the weird and wonderful. 

Here are eight of the world's most inventive golf courses you must visit!

Ahlgim Acres in Illinois, USA
While some might question whether it's in poor taste, it's sure to be one of the more interesting rounds of min golf you play! The Ahlgrim Acres in Palatine, Illinois is a mini golf course located in the basement of an active funeral home. Yep, you heard us! You can get over your grief by putting through a coffin, a guillotine, and a haunted house!

Bubbeljungle Golf in the Dark in Leiderdorp, Netherlands
This wild, glow-in-the-dark mini golf course is also an interactive mystery that you're tasked with solving. Rescue a famous singer while putting your way through this neon wonder of a golf course. This indoor course will be 18 holes of weird and wonderful goodness.

Championship Adventure Golf in New Brighton, Merseyside
If you've ever wanted to walk up to the 18th on St. Andrews and test yourself, well…we can't help you, but just over the Mersey from Liverpool, you can almost live out your dream on this mini golf course that features reconstructions of the world's most famous holes

Hawaiian Rumble Mini Golf in Myrtle Beach, South Carolina
Rated one of the best mini golf courses in the world, this year-round, 18-hole golf course recreates the luscious beauty of Hawaii with a tropical garden and a 40-foot recreation of a volcano. Add a round at Hawaiian Rumble into your vacation by buying tickets online, not only will this mean planning vacations made easier as you will already have your days booked in advance and not have to wait when visiting Myrtle.

Dino Park in Phuket, Thailand
You'll be in the depths of Jurassic period at this themed mini golf resort in Phuket, Thailand. With full-size recreations of some of the time periods most ferocious beasts, you'll putt your way through a course filled with jungle flora, a 40-foot waterfall, a lava cave, animatronic T-Rex, and a Flintstones-style caddy car. This mini golf course is a favorite of tourists and locals alike.

Par-King Skill Golf in Lincolnshire, Illinois
Par-King Skill Golf in Illinois is full of over-the-top designs and some of the coolest obstacles out there. Voted one of the top ten in America by the Travel Channel, Par-King Skill Golf has a series of highly mechanized obstacles and describes itself as a "skill golf" course as opposed to mini golf. Tons of nostalgia-filled elements make this mini golf course loads of fun for adults. Featuring things like a castle, a roller coaster, a carousel, and more, the Par-King Skill Golf will be the most interesting round of mini golf you get to experience.

Mayday Golf in South Carolina, USA
As you may have noticed, South Carolina has a few interesting mini golf courses on offer! The Mayday Golf Resort is a scenario golfing experience that suggests you survive a plane crash on a tropical island with only your golf clubs, and you'll have to mini golf your way out! This course recently won The Travel Channel's best survival course in mini golf.

Ghetto Golf in Liverpool, UK
If you've ever wanted to play mini golf and get drunk in an old brewery, Ghetto Golf is the place for you! Ghetto combines theatre, DJs, glow-in-the-dark effects, and it also only permits those over 18–so no screaming kids.