The hardest part about picking festival outfits? Not overdoing it. Ideally, you want clothes that you can wear any day of the year. Treating a music festival like a chance to show off your great fashion sense (as opposed to Halloween) not only simplifies your wardrobe, but also keeps you from looking back at those pictures with horrifying shame. It's time to put away the feathered dream catchers and booty-peeking DIY cut off shorts. But don't worry, we have some festival-worthy outfits that you can proudly wear even after you've packed the car and returned to reality.
The Maxi Dress
Who doesn't love a good maxi dress? They can show off a little or show off a lot, and you're never short of intricate details to make your entire ensemble shine. Maxi dresses that look like two-piece sets have been growing in popularity, and for good reason. A good midsection panel accentuates your hips without making you self-conscious while dancing, so go for a simple lace insert or a criss-cross wrap to give your outfit just the right amount of intrigue! For festival season, purchase light colorways to withstand the sun rays, and don't forget those sexy high slits for movability and breathability.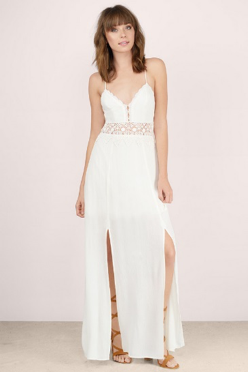 Approachable boho prints:
When it comes to bohemian-inspired prints, it's best to throw caution to the wind. You want something that's not too in-your-face and in a colorway that's easy on the eyes. Don't get us wrong, a good paisley pattern is a classic, let's just make sure that it's approachable when you leave the music venue. Colorways that are slightly muted or limited to about two colors or patterns makes for the perfect amount of boho. Try a simple romper with an easy, casual silhouette in lightweight fabrics. You want your outfit to draw attention, not distract.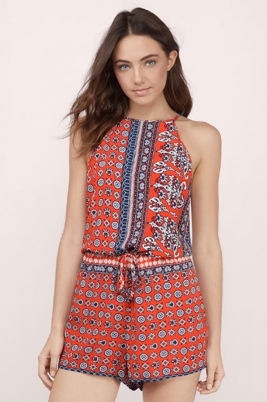 Unexpected shorts:
That's right, you heard me. There isn't anyone at the festival who hasn't packed a pair of shorts that have at least one of the following: dolphin surplice, crochet, lace, tassels, fringe, lace up, denim cut off/fraying. Let's liven it up a little and break the mold. Try vertical stripes in muted, dark tones to pair with your favorite suede crop top or off-the-shoulder eyelet lace top! They lengthen the legs and surprisingly, look good with just about anything.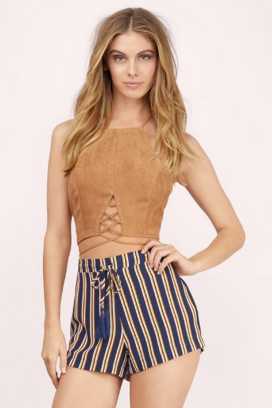 Plunging neckline that stays in place:
No one likes a nip slip right when your favorite band comes onstage. One way to make sure your plunging neckline stays in place is to purchase a low cut bodysuit. No need to constantly fix your top when it's fit and snug against your body! Try one in a casual, draped silhouette to keep from looking like you stepped out in your swimsuit. Tuck into your favorite skirt, shorts, or flared denim. Festival or not, a plunging neckline bodysuit is a wardrobe staple.