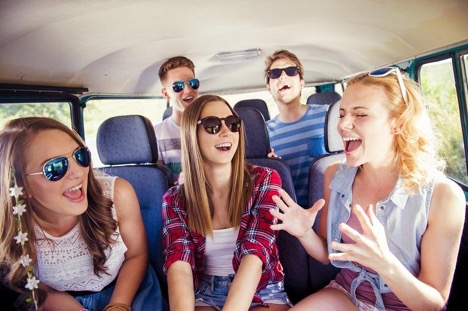 Travelling with a large group? We've got you covered. If you want to make sure that everyone in your entourage will have a smooth and relaxing experience, there are several things you need to keep in mind.
Holidaying is always an exciting prospect, and in theory, if you're embarking on a group trip, it becomes even more fun when you have family or friends along for the ride.
But realistically, group travel can go either way. It could become the best or worst trip ever. Fortunately, with enough time, effort, and organisation, you can avoid all the hassles, mishaps, and make your group trip something you and your besties can reminisce about for many years to come.
So, whether you're attending a special occasion, like a wedding, or a much-awaited sporting event, festival, you name it, here are easy and simple tips that are sure to help make your group travel a lot more enjoyable and worry-free.
Budget
One of the most crucial aspects of planning a trip is the budget. So, make sure you discuss it with everyone in the group. Ideally, everyone should agree on how much money you are willing to spend on your trip. Typically, your budget will include things like accommodation, food, as well as transportation.
So, you may have a couple of ways to come up with a sufficient budget. For example, it could either be a shared pot of money; you can agree on splitting the bills or buy your own food, cook it, and share amongst yourselves.
Transportation
Need a ride and want to save? Your best option is to search online. Look for a trusted and reliable rental company that offers an affordable van hire service to accommodate your group without blowing your travel budget.
Just keep in mind that hire vans book out quickly. So, make sure you reserve your ride as soon as possible. But make sure you book directly with the rental agency and not through broker sites, so you can get a good deal and save more.
Accommodation
Another essential part of your trip is where you will stay. So, if you're having a class reunion or a bachelor party, consider renting a house. Having your own house can save you a lot of money and stress.
With a house, you'll have a better and more relaxed environment and enjoy other perks like cooking meals together because you'll have your own kitchen. So, do the same thing. Look online and visit sites like Airbnb where you can find homes to rent from virtually any place in the world.
Group discounts
One great thing about travelling with a group is getting discounts. So, always keep an eye out for local attractions that offer discounts. You can easily spot these special offers somewhere on a website or just ask directly by either phone or email.
Appoint a group leader.
For large parties, you can break into small groups and assign a group leader. This way, it will be easier to handle things that need to get done. But make sure you get everyone involved. Play to the strengths and abilities of your party members.
For example, one individual is great at reading maps, so, this person can be your official navigator. Another person may good with handling money, so this individual can be your travel group's official finance officer.
Communication
Keeping touch can be challenging, especially with a large group. Your appointed group leader can be your contact person. So, the group leaders can share their mobile numbers with their designated group members.
This way, no one will get lost, or it will be easier to organise where your meeting place would be and get everyone together when it's time to leave.
Itinerary
Have everyone in your group collaborate on your travel itinerary. You can sort out your schedules, choose where you want to go and think about what type of activities you want to do as a group.
Enjoy the trip
As the saying goes, the more, the merrier. Essentially, travelling with a group is a lot of fun and more exciting. While people may be interested in different things, the most important thing is to be democratic.
If you face a problem, don't take it seriously. Challenges are easier to overcome when everyone cooperates and supports each other.
Have you travelled with a large group recently? If so, how was your experience? What steps did you take to make sure everything went without a hitch? We'd love to hear from you. Please leave a comment and share your tips so that others may benefit as well.