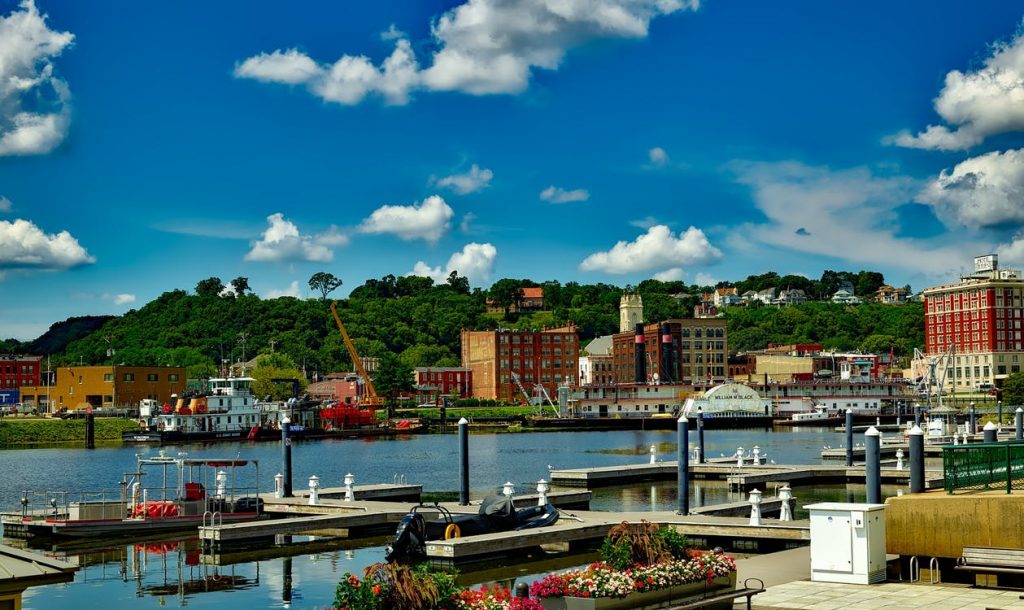 It's time to start planning your next vacation so where are you thinking of going? You might be considering California for its mountain and forests, or Florida for its sunny beaches. But if you're looking for a state or destination that's a little off the beaten path, and still filled with wonderful scenery and rich history, consider a trip to Iowa. The Hawkeye state is an underrated hotspot nestled into the heart of America and it's the perfect destination for your next road trip or getaway.
Stunning views at every turn
Iowa truly doesn't receive nearly enough credit for just how beautiful it is. From the industrial majesty of the gigantic wind turbines that dot the horizon to the array of colorful, scenic gardens throughout many of the cities and towns, Iowa is full of eye candy everywhere you look. One must-see spot is the Effigy Mounds National Monument near Harpers Ferry, Iowa. These historically preserved mounds are not only lovely to behold but they're significant markers of the many local American tribes. While you're at the mounds, keep an eye out for all manner of wildlife and native fauna. It's a great place to be at one with Iowan nature.
The Central Gardens of North Iowa are another popular destination, especially in the warmer months. These public spaces are spread across three acres of themed gardens, ponds, streams, flower beds, and outdoor art. It's the perfect spot to stop, stretch your legs, and appreciate the true beauty the state has to offer. Make sure to have your smartphone handy because you're going to want to remember the sights you see throughout the gardens.
Cozy, comfortable cities
Want to get away from the noise and buzz of the big city? There are plenty of towns throughout Iowa that let you do just that. From the scholar's haven of Iowa City to the historic steamboat town of Bentonsport, if you're looking to unwind and disconnect from the faster pace of your life, you've come to the right state.
In particular, Decorah, in the northeastern section of Iowa, is truly a picture book representation of small town living. Surrounded by bluffs, rivers, and valleys, and overflowing with the town's Norwegian heritage, Decorah is a great spot to spend a few days relaxing. Take a stroll down Water Street, peruse the unique local boutiques, and pop into the Porter House Museum. Styled like an Italian villa, this gallery is a great place to peruse a charming collection of art and history.
Ever heard of a little film called Field of Dreams? Then you absolutely have to take a trip to Dyersville where the movie was shot. It's definitely a spot where you'll want to snap a couple selfies so you can brag about visiting a film set. Plus, there's also the gorgeously Gothic Basilica of St. Francis Xavier which is a beautiful, historic site.
Exploring the outdoors
If you enjoy outdoor activities, Iowa has them in spades. Whether you're rafting near Eldora or hopping on one of the many exciting roller coasters at Adventureland, you're bound to have an exhilarating time.
Also, if you're exploring the wilderness, it's important to always come prepared. Mobile chargers that can get batteries up to snuff while hiking throughout the state can be found at one of the many AT&T stores in Iowa and are worth the trip. No one wants a drained battery upon arrival at the Yellow River State Forest! Besides needing to reach each other or place an emergency call, visitors will also need plenty of battery to take stunning photos.
An unexpected delight
Though Iowa is often overlooked, it's well worth investigating for your next vacation. Whether you're embarking on a family road trip or going on an excursion with friends, you're bound to have an amazing time journeying throughout the Hawkeye State. It's lovely no matter the time of year and it's a great way to escape the hustle and bustle of everyday life. Add Iowa to your travel itinerary. You'll be glad you did.