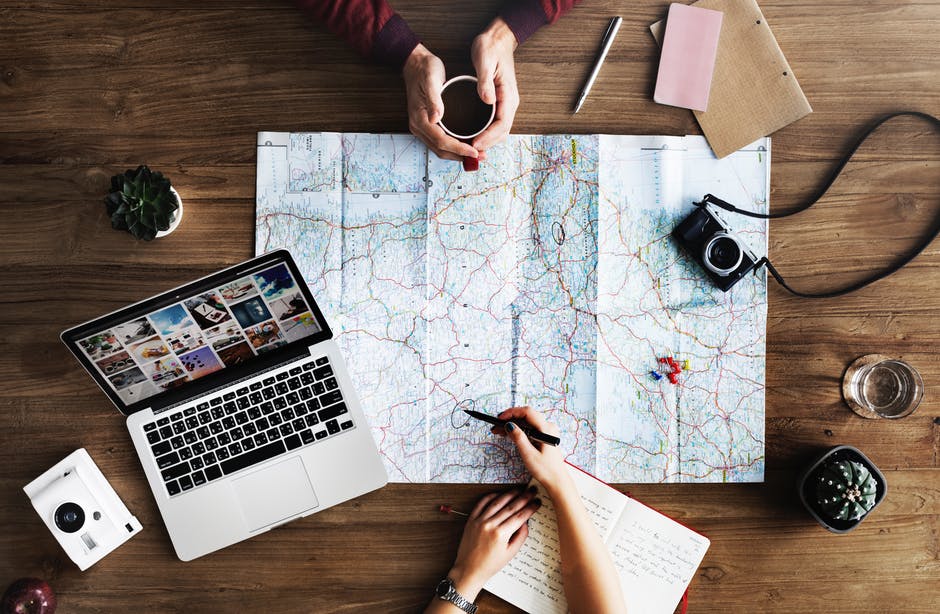 One of the best parts of traveling to a new place is being able to experience a new culture and how they live life. Social media apps have become the best and fastest way to connect with locals and travelers to find out what they've done and where to go!
When it comes to planning a vacation, these are the apps you're going to want to utilize to truly have a unique experience.
Tips for Planning Vacations
Whether you want to experience the best local restaurants, the most beautiful outdoor areas, or a different culture, social media has given us a gateway to finding it! We've put together our favorite 7 tips on how to use social media for your next vacation.
Let's get started!
1. Roadtrippers
With this Roadtrippers app, you can plan traveling across the country by vehicle with ease. Utilizing this app can transform a boring car ride into a journey full of memories. 
The app highlights attractions, landmarks, and parks all along your route, so you know when the best time to stop to explore! Every point of interest will have written reviews from past travelers as well so you know whether to stop or keep driving!
The app also features exclusive deals and savings for users, and you're able to collaborate with friends too. This is a must-have app for any road trip.
2. Trover
If you're looking for inspiration for the next vacation to take, then Trover should definitely be your first stop. The app is centered around showcasing beautiful images of different locations to visit!
It gives you feedback from past travelers with their photos, reviews, tips, and even hashtags associated with that specific location. The functions used by Trover is a dream come true for an avid traveler or someone looking for the perfect vacation.
3. Travello
Whether you're a digital nomad, backpacker, or just someone that takes a yearly vacation, Travello is a great social media app to have! This app helps you meet with nearby like-minded travelers and tailors the app respectively to the community you want.
With this travel app, you can create a profile, add photos, write reviews, send messages and join groups specific to your interests — such as Backpackers Asia or Digital Nomads. This is the Facebook of travel and a must download for everyone!
4. Instagram
Yes, we said Instagram, the popular social media app everyone uses for posting pictures. If you really think about it, Instagram is perfect for planning a vacation with friends. Everyone is posting pictures constantly from every place they visit — especially when they're on vacation.
By searching specific hashtags, you can have the perfect travel planning tool. Just search a destination as one whole word such as #virginislands and you'll have a slew of pictures showcasing your next potential travel destination.
5. Facebook
Facebook is a great tool when it comes to planning vacations. You can use the app to find the best-hidden gems that are off the beaten path.
Just about every city has Facebook pages now dedicated to local favorites. You'll find the most unique destinations and the best restaurants. Search for specific groups for your next destination or foodies along with the name of the city you wish to visit. This will get you connected with locals and you'll know all the spots to hit when you arrive.
6. Airbnb
This app has several unique features that make it stand out from the rest. Airbnb as its main function offers people to list their homes for a place to stay on your vacation. There are some amazing listing and many are much better and more unique than your average hotel.
Where this app really comes in to play though are its extra features. It offers "Hosted Walks" where Airbnb hosts offer travelers real-time and relevant content centered around the city!
Not only that but the app also offers "Experiences" where instead of renting a place, you experience something with or through a local, such as local foods, photography, taking a tour or a yoga class on the beach.
7. Foursquare
This app has been around for quite some time, and it has some great features for all travelers. Foursquare is basically a city guide, it allows you to find nearby attractions near your current location and based on your personal tastes as well!
Not only does it show you the best attractions nearby, but it also allows you to follow other fellow travelers. You can read their reviews and also give your own insight on destinations.
It also saves all of your information, so for the avid traveler, this is amazing. You can plan ahead for your next vacation or look back and see all of your past experiences!
Bonus Tips
Planning each destination you want to see and every restaurant you want to eat at is all part of the fun and experience, just don't forget all of the other planning involved though.
Packing
Make sure you pack correctly and with everything you'll need. PackPoint is a neat app that helps you make sure you keep organized and don't forget anything you need. You wouldn't want to forget your toothbrush or cell phone charger, would you?
Entertainment
Whether you are just traveling from one state to the next or you have a 13-hour flight overseas, plane rides can be boring and if you're like me, you're not going to be able to sleep through it — so make sure you have some video apps to watch your favorite shows!
Netflix is the most popular and tends to have the shows, its also available on just about every phone and laptop, you can even get the Netflix app for Mac.
Connect and Share
Social media is making it easier and easier to find the perfect vacations for each individual, share those stories, and experience truly unique situations. Planning vacations is going to be a breeze with these apps.
Now download them and start traveling! And don't forget to look around the rest of this site for more vacation planning tips.