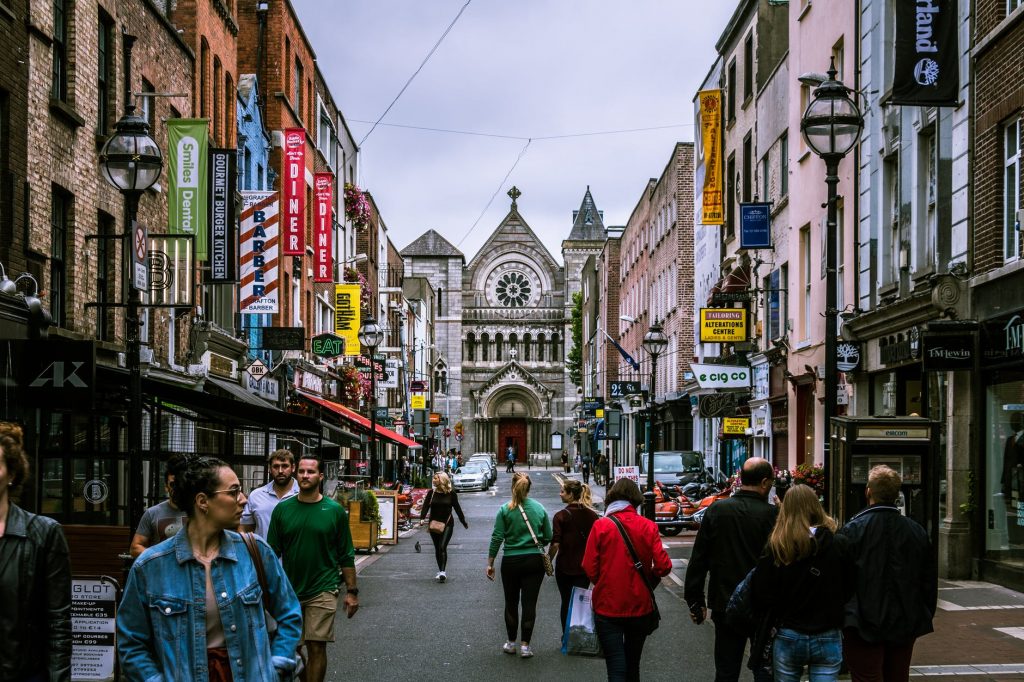 Dublin is a city rich with culture, where any waking hour of the day something has got to be going on, be it a live music show or a theatrical performance. There are so many places to visit here, so much to see. But festivals are one thing that Dublin is particularly fond of. Dublin loves festivals, and there's bound to be one at least every month of the year. These annual festivals are a beloved time of the year for many Dubliners and guests of the city, who often come specifically to experience the festival culture. Themes and occasions for the festivals vary greatly, so there's got to be something of interest for everyone.

Usually, the festivals take place in specific parts of the city, so you might have to get a ride if you don't want to miss anything. Probably the most comfortable way to get around the city is to take a taxi. At the very least, it's a lot easier to order a taxi service than bother with bus passes and ride fares. Once you get to your destination, you'll probably get to do a lot of walking, so at least save your feet for the time you actually get to the festival.

Here's an overview of some of the exciting events that Dublin has got in stock for you in 2020.

St. Patrick's Day Festival
St. Patrick's Day Festival is five days and nights of celebrations with lots of local music and alcohol, starting on Friday of March 13. The events are spread all across Dublin in various venues, with ticket prices starting at around ten pounds. This year the festival will be hosting Jessy Lanza, Annie Mac, The Breath and Brìghde Chaimbeul with Aidan O'Rourke, and many more. The festival is very popular with both locals and tourists, so tickets are usually sold out months in advance. In the culmination of the festival, there's traditionally a parade marching through the streets of Dublin.

Bloomsday Festival
The Bloomsday Festival is an annual literary street carnival in honor of the famous author James Joyce and his world-acclaimed book Ulysses. Dubliners first celebrated Bloomsday in 1954 and kept the tradition alive ever since. Now, you'll get to go on a trail to discover Joyce's Dublin, as well as places significant to Ulysses, giving you a chance to follow the characters around Dublin, just like it's described in the story. You'll even get to dress up in the clothes appropriate to the time period of the novel, eat the food mentioned in the book, and read passages from the text. If there's anything to give you a true feel of Dublin, then it's the Bloomsday Festival.

Fun fact! The festival takes place on the same day when James Joyce sets the scene of his novel Ulysses – 16 June 1904. The novel shows one day in the life of an advertising agent Leopold Bloom.

Dublin Fringe Festival
Dublin Fringe Festival is an annual art extravaganza brought to you by Fringe Lab – a space for artists to exhibit their skills, experiment, and learn from one another. The Fringe Lab operates on a donations basis and helps both established and developing artists all year round. Once a year they come together to showcase their discoveries and innovations in the arts from both Irish and international artists. Dublin Fringe Festival is the best platform for bold and ambitious individuals who aren't afraid to cross boundaries and shake up the stale establishment.

Bram Stoker Festival
Does "4 days of deadly adventures" sound appealing and make your blood rush? Then you might want to check out the Bram Stoker Festival in Dublin. This is yet another festival to celebrate literary Ireland, dedicated to the creator of infamous count Dracula. Its gothically inspired events celebrate the mysterious and the supernatural. It's a healthy mixture of spooky family-friendly events and late-night antics for those of us who are feeling more adventurous.

Dublin Theatre Festival
Dublin Theatre Festival celebrates the city of Dublin, its people, and their stories. Last year nearly ten theatres and art centers hosted the events of the festival – contemporary plays, many premiering for the first time in Dublin. The main programme is primarily aimed at adults, touching upon some sensitive topics. Shows more suitable for kids are presented by The Ark cultural centre for children.

These are just some of the upcoming festivals to look forward to this year. So why not start making vacation plans right now?