The Warped Tour happens to be the largest traveling music festival in the United States and also the longest running. Every summer since 1995, rock, punk, hip-hop and more has come together to put on one of the hottest shows of the year. This year's show is nothing short of amazing with around 90 acts performing on multiple stages.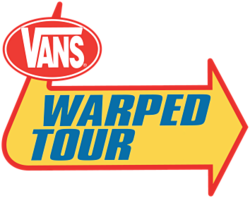 The Shark stage, which is the main stage, is the stage to be at to see some of the biggest acts this year. Never Shout Never, Black Veil Brides, Motion City Soundtrack, The Wonder Years and Simple Plan will be performing on the Shark stage. The Unicorn stage is also going to have some great acts performing on it like We Came As Romans, Man Overboard, Pierce the Veil and Memphis May Fire.
Being As An Ocean, Escape the Fate, Senses Fail, Silverstein and While She Sleeps will perform on the Monster Energy stage. A lot of the bands used to be a lot bigger, but they have been around for a while and are still rocking it at Warped Tour.
There are a few other stages with some smaller name acts that include Black Boots, New Beat Fund, New Years Day, Riff Raff and much more. You can also catch some acoustic acts like Buttons, Koji and Moose Blood. The Warped Tour doesn't just offer music; there will be an area to catch some great comedians like Dave Ross, Grant Cotter and Sammy Obeid.
With a line-up full of rocking acts, comedians and even acoustic sets, the 2015 Warped Tour will not disappoint. It is a festival that offers not only terrific music to listen to, but also a great place to meet new friends.
The Warped Tour is about half way over but will still be visiting Toronto, Detroit, Chicago, Milwaukee, Denver, San Diego and Portland. The last show is August 8th in Auburn, Washington.